'Rocky' rocks the house
Attendees on annual spring NYC trip experience an unconventional musical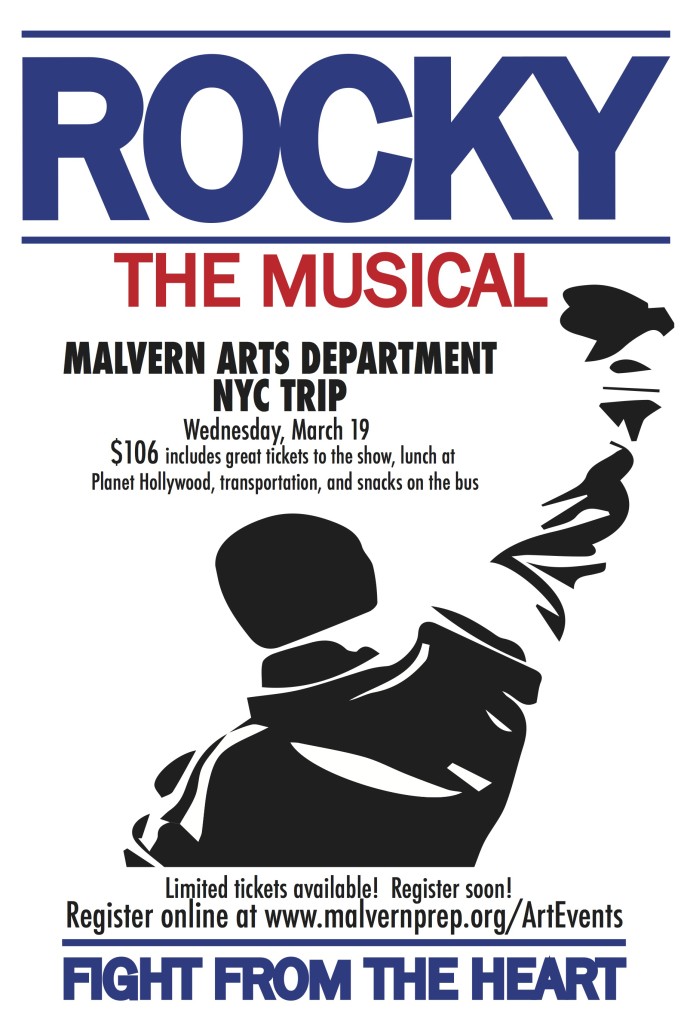 On March 19, a group of Malvern students went to New York City to see "Rocky" on Broadway. Expectations were all over the place. Rocky Balboa singing show tunes? That just doesn't seem right. But the reviews were off the charts, and we were all excited to see what the cast would do with the American classic.
The day started out with a nice bus ride into NYC, where we were dropped off at Planet Hollywood for lunch. After a pleasant devouring of burgers and fries, we walked to St. Patrick's Cathedral, a tradition of the New York trip. We walked around the cathedral and lit a candle as an offering if we so desired. It was then finally time for the show. Still on foot, we went to the Winter Garden Theater, all anticipating a fantastic show. The curtain rose and the rest is history.
From the set changes, to the music, to the dancing, to the incredible stage combat, we saw nothing less than an unbelievable portrayal of "Rocky." Lead actor Andy Karl had all of Sylvester Stallone's mannerisms down to a tee. He had that signature Stallone voice and even looked a lot like him. The love story that Andy Karl (Rocky) and Margo Seibert (Adrian) created was entirely convincing and enchanting. It was such an interesting treat being able to see this famous movie portrayed on the stage.
The similarities between the stage show and the movie were phenomenal. They had everything from the cow carcasses used as punching bags, to his turtles, cuff and link, to the Philadelphia Art Museum steps that Rocky runs up as part of his training. Everyone that went to see it was in agreement that the most exciting part of the show was the final fight scene. It no longer felt like we were in a theater watching a show. It felt like we were at a boxing match. The room was transformed into the Spectrum, including Philadelphia sports teams' banners hanging from the ceiling and the fanavision cube that hangs in the center of the arena. The bottom floor, center section of audience members, was invited up onto the stage to sit on bleachers as the "audience of the fight," and the boxing ring was moved over those vacant seats. The way the fight played out was so realistic and gripping, but I won't spoil the rest.
It was truly an incredible show and an unforgettable experience, including the extremely prolonged bus ride back to Malvern due to traffic. I highly recommend seeing this show to anyone, and remember, always fight from the heart.