Athlete of the Issue: A Tough "Nut" to Crack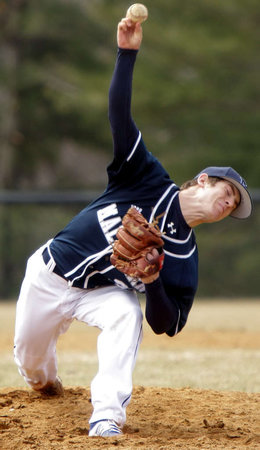 Don't let his size fool you.  Gardner Nutter, who stands a modest 5-11 and weighs 185 pounds, is one of the top pitchers in Southeastern Pennsylvania.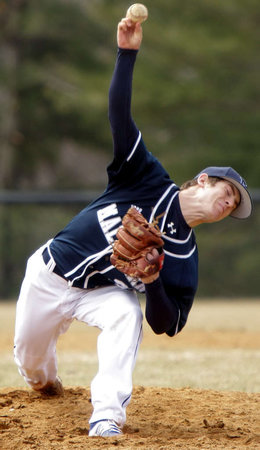 Through six starts this season, Nutter is 3-0 and has amassed 33 strikeouts and an ERA of 2.25.  He is the ace of one of the most talented rotations in the Inter Ac.
After transferring from Westtown for his junior year, Nutter has been a mainstay on the baseball team.  In his first year in a Friar uniform, he was 8-0 with a 1.91 ERA and tallied 48 strikeouts.
Nutter has completely dedicated his time to becoming the best pitcher he can be.  He is found nearly every morning in Malvern's gym at 6:30, working on his strength and conditioning. This past summer, he honed his pitching skills at Ron Wolforth's Texas Baseball Ranch, which has produced notable MLB pitchers including Scott Kazmir, C.J. Wilson, and Trevor Bauer.  Over two months at the ranch, Nutter improved the velocity of his fastball by nearly 10 MPH.
Nutter will be continuing his baseball career at Eckerd College in St. Petersburg, Florida. When he's not mowing down college hitters, he will be studying exercise science.
BH: Here's the situation: bases loaded, full count, and you need an out.  What's your go-to pitch?
GN: I throw two curveballs a slow and a hard one, so in this situation: Hard-Curveball.
BH: Your exercise routine is much different than that of the typical athlete in the weight room.  What exactly are some of the exercises you do and how do they help your pitching?
GN:  do a lot of plyometric full body, dynamic workouts.  Pitching is an explosive exercise, therefore I train explosively.  My workouts are a lot of short burst work with eccentric and concentric motions.  I use a lot of medballs, bands, and body weight exercises.
BH: If you could have a catch with one professional baseball player (past or present), who would it be and why?
GN: Probably Cliff Lee, he is my favorite to watch.  He absolutely carves up hitters, and attacks them with 4 pitches.
BH: Do you have a favorite pre or post game meal?
GN: It's not so much a meal, but before each game my Dad always makes me a Kale and Green Apple juice.  It's delicious.
BH: What's your favorite baseball movie?
GN: Tough because there are some good ones but I'd have to say The Sandlot, it's a true classic.