Homecoming at Malvern Prep
Homecoming festivities are back on Warren Ave! From sporting events and alumni events to the dance on Saturday night, students and faculty experienced a sense of normalcy again.
Homecoming is back!
Saturday, October 16th  was full of events for students and alumni alike. Saturday morning started with an Open House for prospective families, then students and alumni cheered on athletes at the soccer, water polo, and the football games. The weekend wrapped up with alumni reunions and the homecoming dance Saturday night.
Mrs. MaryFran Frankenheimer, Director of Alumni and Parent Relations and Mrs. Kira Toner Kay, Executive Assistant for Advancement, both new to the alumni relations department, took on planning the events for the alumni coming back to campus. 
"[This year there was] a reunion for the class of '61, their 60th reunion. We did a 50th reunion for the class of '70, who missed it the year prior, and the class of '71. And then we did an all-class reunion with the emphasis on the '96 guys, which was their 25th reunion," Frankenheimer said.
Alumni from these classes had large turnouts showing their dedication to the brotherhood. Frankenheimer noted a lot of guys make an effort to come to these 50th, 60th, reunions and this was prevalent with a couple of guests. 
"[A gentleman] came in from Puerto Rico, and he came on Friday for the weekend. He flew in for homecoming weekend and what was hard for him I noticed was that he heavily relied on Ubers. And then there was another gentleman from Puerto Rico who also came," she said.
The bond many alumni shared as boarding students was very close, and Kay got to see that first hand.
"[Alumni] would park themselves in a place and then talk about what they did in that space. And it was just like, 'remember, remember when Joey did this, or Bobby did that'. Tolentine used to be a dorm room, and they all talked about what kind of trouble they caused after lights out around 10. It was fun to watch that just sit back and watch them and really imagine doing that with your friends. It was just cool to see," Kay said.
For the majority of these guys as well, it was their first time seeing the new St. Augustine Center or quad. They were able to walk around campus during the day, hit the bookstore, and take in their high school experience.
"I think it's a great way for them to see that their contributions to our school do impact what we are able to have now. Their generosity allows for those things to happen," Kay said. 
Homecoming at Malvern is full of making memories and reliving old ones, whether it's your 60th reunion, or your senior year homecoming dance. Reincorporating the homecoming dance this year for students was something that was important to achieve.  A select group of students under the supervision and guidance of Dr. James Fry, Director of Student Life, worked to make the dance possible. 
"The Homecoming committee and faculty worked together through planning meetings for the past month to help plan the homecoming dance," Fry said.
Ben Franzone '22 was part of the Homecoming committee this year, along with fellow seniors: Matt Miller, Aidan Cullen, Kieran Sims, Danny Medler, Nic Angelichio, and John Bomberger. 
"When the committee first started planning for the Homecoming Dance, we all agreed that we wanted to have everyone together and tried to achieve the most traditional homecoming experience that we possibly could," Franzone said. "Our original plan was to have the whole school and their guests outside on the turf. We would have lights, adirondack chairs, tailgate games and maybe even some fire pits."
The original plan for the homecoming dance was upended.
"Keeping track of the weather forecast the whole week, [the planning committee] immediately got together with Dr. Fry and went through our alternative options. We were planning the logistics for the homecoming dance all the way up until halftime of the football game. It was supposed to rain all day long, but given that the weather was beautiful in the morning and afternoon we were holding out hope that we could possibly have the dance outside as originally planned," Franzone said.
The homecoming committee met with faculty to discuss the possibilities of moving the dance to O'Neill. 
"After school on the Friday of Homecoming weekend, [the committee] all met with Dr. Fry and Mr. Algeo. After meeting with them both, we felt that we would be able to host all of the students and guests in the O'Neill gym, making sure there were proper ways to ventilate the space," Franzone said.
Due to COVID-19 safety precautions, the plans continued to change as the dance inched closer.
"That plan however fell through at the last minute when Dr. Fry notified us of a surge of students who signed up for the dance the night before and the day of, which would have been too many to host in one building. The most realistic option, keeping COVID-19 precautions in the back of our minds, was for us to have the juniors and seniors in O'Neill and sophomores and freshmen in Dougherty," Franzone recalled.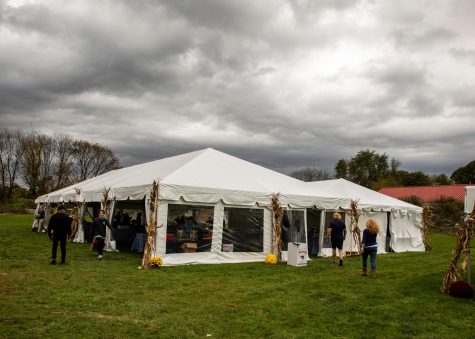 Students were expected to follow all normal COVID-19 safety regulations. Mr. Tim Dougherty, 12th Grade Student Academy Leader and English teacher, was at the dance-making sure students were on their best behavior keeping everyone there safe.
"[Students] got even better with their masks. I think that they, for the large part, were well behaved, they were excited. They were gracious, they thanked all the chaperones on their way out," Dougherty said. 
He was also surprised that the students didn't leave anything behind. 
"[I] was amazed at how few last items were left, there was only one shoe. Couple bouquets of flowers. No phones, usually we have a phone. And I think only one or two jackets, so usually we have six or seven mismatched jackets, that's even when we had like the coat racks," Dougherty said. 
Homecoming weekend, from the football game to the dance, is a place for students to make memories that last a lifetime. For Franzone and all students, homecoming this year was a success. 
"Now that I am a senior, I'm sure many juniors feel this same way, but many of us go to [homecoming] events because it is really a special experience. Being able to have everyone crammed into the student section, cheering, screaming and supporting the football team is something I personally will never forget; that's what I would say was my favorite part of homecoming this year."