Christian Service 2021: Malvern's "FriarTHON" shines with its first-ever event.
With COVID-19 limiting Christian service opportunities for students last year, a group of seniors and the Christian Service Team has worked tirelessly to bring service back to campus this year with Malvern's inaugural "FriarTHON" event.
Service has always been at the forefront of student activities at Malvern. Students and faculty are always seeking ways to help those in need. However, COVID-19 safety protocols have proved to be a significant obstacle in providing students with opportunities to make a difference in their community. A group of seniors, with the help of the Christian Service Team, found a way to overcome this obstacle by a school-wide, two-day Christian Service event known as "FriarTHON." 
When challenged to look for ways to make an impact outside the Malvern community, seniors Jack Walters and Kody Kolar were inspired by Penn State's annual "THON" event, which is held every year to help benefit childhood cancer.
"Me and Jack Walters took a social entrepreneurship class last year and Mr. Sillup, Mrs. Folan, Ms. Suber, and Mr. LaTempa challenged us to pick a problem and find a way to make an impact. We looked at Penn State's THON and what they do for childhood cancer every year," Kolar said. 

After their Social Entrepreneurship class ended, Kolar and Walters brought in senior Matt Powers. The three co-founders planned and presented the event to multiple faculty members before proceeding.
Kolar, Walters, and Powers then established a team of seniors that worked very closely with Malvern's Christian Service Team, beginning in the spring of last year. Members of the senior leadership team included: Luke Gueriera, Tommy Czarzasty, and Joe Sheridan. Together, they worked with Mrs. Catania, Christian Service Director, and Mrs. Paulino, Christian Service Administrative Assistant.
"We met at least once a week, sometimes two times a week after school and during lunch," said co-founder Matt Powers. "It was a really long process and then, in the fall, [preparations] really ramped up, but it was totally worthwhile."
Mrs. Catania and Ms. Paulino also put a lot of time and effort into organizing the Christian service events.
"The preparation for the October service days began back in the spring when I was introduced to the three topics for the year: hunger and homelessness, health and wellness, and uniting communities through arts and athletics. It takes hours and hours of organizing and then reorganizing and a lot of trial and error. There are so many layers to this whole process of finding meaningful service for both the upper school and the middle school and faculty and staff," Catania said.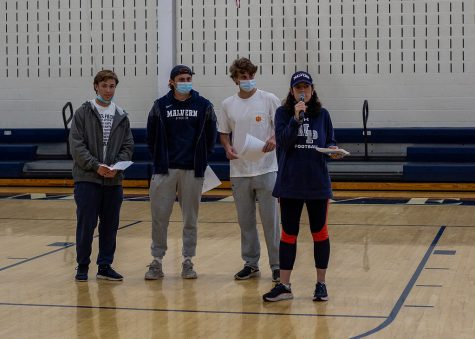 The activities planned for the first FriarTHON event this year were centered around serving those who are dealing with hunger and homelessness. Students had the opportunity to make blankets, package meals and seeds, as well as "blessing bags" for the homeless. Speakers from various organizations also spoke to show students the impact they can make by participating in service. While making a difference in the local community and abroad, students also enjoyed the multiple food trucks that came to campus throughout the day and the opportunity to participate in a half-court shot competition.
Overall, co-founder Matt Powers believes the first-ever FriarTHON event was a success. He further explains this by talking about the final stats. 
"52 hand-sewn blankets were donated to St. Patricks in Norristown. 45,192 meals were packaged and delivered through Rise Against Hunger. Over 30,000 seed packs were packaged and distributed through American Seeds. More than 4,200 cans of food were donated to the Chester County Food Bank and Saint Katharine Drexel Food Pantry. Plus, 520 blessing bags, which contained items such as markers, jump ropes, and erasers," Powers said. 
However, even with the many successes that came from the event, Kolar was critical of improvements that could be made for future events.
"I think just the organization of the schedule [needs to be changed] because a lot of teachers, even though we gave a schedule, were confused because there wasn't really too great of an explanation of it. There should have been multiple emails sent out and faculty meetings where they could have explained it better," Kolar said. 
The future of Christian Service at Malvern is extremely bright as the Christian Service Team has already begun preparations for its second event in January with service activities centered around the theme of health and wellness.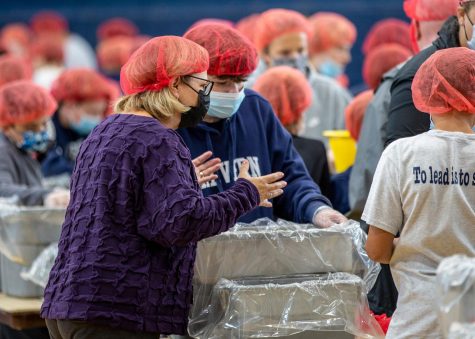 "The preparation for January [FriarTHON] started immediately after October," said Mrs. Catania.
Catania continues by explaining that they have taken feedback received from FriarTHON and hope to make the winter service days even more successful.
Catania knows that FriarTHON has the potential to grow into a successful school-wide event that will hopefully take place several times throughout the academic year.
"We're going to try to continue the mission that those boys [FriarTHON Student Leadership Team] started back in October and with each service day, we're going to grow it [into a school-wide event that takes place several times a year]," Catania said.
With the many successes coming from FriarTHON's first-ever event, it will be exciting to see what activities are planned for future events.