Freshman Football's Undefeated Season
Malvern's Freshman football program has 'successful' undefeated season behind QB Skyler Smith, a 'leader'
Led by quarterback Skyler Smith '25, Malvern Prep freshman football cruised to an undefeated eight-win season.
"The kids were just really excited to play," Coach Will Haus said. "There were a few high expectations, and we knew we had some good talent. They definitely lived up to those expectations." 
Freshman every year join this team and build from the basics to become a bigger part of Malvern's football program, this class especially showed great talent.
"It's a very developmental program and filters into a very very good JV and Varsity program. Basically what we do is give our kids the basics that they'll need to know going forward as sophomores, juniors, and seniors. It just so happens that we had an extremely talented group this year," Coach LeRoi Leviston said.
Since most of the players are new to Malvern for this, their freshmen year, they met each other through this team and were able to mature together on the field. 
"It was great for them, I think, to have their first experience being here at Malvern Prep, playing with some people that they knew, some people that they didn't know, because you all come from different areas, then kind of gel together through the season. . . I think as the season went along, they grew and learned" Leviston said. 
The future of the Malvern Prep football program, led by varsity coach Dave Gueriera, looks like it's in good hands. Smith dominated and, aside from an 8-6 win in the season opener, every game was practically over by the second quarter. It was a blowout in nearly every game.
"I think the season was all about progression through the whole year," Smith said. "Week by week, the team got better and better."
Haus had high praise for Smith and his efforts as both a player and a leader.
"I think just Skyler in particular, he's a kid that works very hard to be good at what he's trying to be good at," Haus said. "Not only did he and the team have a really successful year in terms of stats and all that — that speaks for itself — but, I think at the end of the day what's even more impressive is the person he is, and the leader that he'll hopefully become — on and off the field. I'm hopeful that he takes those leadership skills and he applies them to the classroom, and to the community."
Normally, home games start at 4:00 p.m. for freshmen. In their final affair of the season however, they matched up against La Salle at 7:00 p.m., under the lights on a chilly Thursday night. The day before varsity football's Inter-Ac-clinching win over Episcopal Academy.
Many freshman students and parents came to the action and the stands were fairly full,  especially for a freshman game that normally sees no more than 50 spectators at a game on average.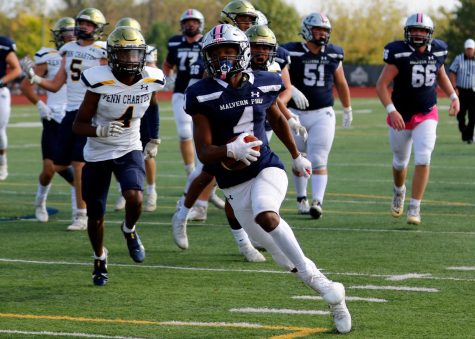 "I think it was just a really cool environment for the kids. Obviously, we're used to playing at 4 o'clock and maybe there's 15 people in the stands, and they're all parents," Haus said. "I think that last game of the year was, one, it was really exciting for the kids — it was under the lights against a really good team in La Salle who we've always had a rivalry with freshman football-wise. I think it was, looking back at that, it was really cool to see how excited they were to play and how well they ended up playing. Like, even before the game, I told the guys, 'Hey, be ready at 6:15.' They were ready by 6 o'clock which, on a regular day, we're getting out of school and we're rushing so we don't have as much time. That was the first game all year where you could tell they were chomping at the bit."
Smith also made it on the popular social media brand 'Overtime,' as he trucked, or ran over, a defender and it went viral. Nearly every student at Malvern who has Instagram had that post reposted on their "IG" story.
"I tried keeping my cool when I first saw it during school but everyone kept coming up to me and telling me [about the video]," Smith recalled. "But yeah, I was pretty excited to see [Overtime] post that — it was a pretty cool experience." 
Wide receiver, P.J. Holmes '25 spoke on how the team was a great way to get to know his freshman class when coming to Malvern.
"I think that we really gelled as a team together because of school and football," Holmes said. "Everybody just loves football on the team. So we all just gelled together and became one team."
When asked about the coaching staff, Holmes spoke on how the coaches brought the team together and helped the players get to the next level.
"They were amazing. They all helped me with tips and things like that and tricks to help me with whatever I was doing, whatever I needed to do. So it was amazing," he said.
Like Leviston said, a few kids stepped up as leaders. As one of the leaders on the team, Holmes was able to be vocal while leading the team.
"In practice, I tried to keep everybody in place, and do what they're supposed to do," Holmes said. "So I am more of a talking leader. I like to get things out so everybody can hear it, and then I'll lead by example. I just kind of made sure everybody was on the right track and kept our heads up," Holmes said.
Other coaches in the program were able to watch this team and take notes on which players were ready to play at a higher level, which allowed some players to play up at the J.V. level after the freshman season ended.
"It helped because some of the varsity players and the varsity coaches would watch our games and take notes on things that we did during our games," Holmes said. They could see who were leaders, so I think that was really a big thing to get my name out there for Varsity and JV."
As players were asked about the team they all gave props to each other. Running back Chris Smith '25, a first-year student at Malvern, credits his offensive line for his successful season on the ground. 
"It was a good experience," Smith said. "I haven't been on a good team as I was this year in a little while. My (offensive) line really showed out this year." 
These players had the opportunity to play up at the next level, allowing them to meet more of the coaches and players. Many of them plan on continuing to play football through their next few years at Malvern. As they grow up and play at the higher level, they will always be able to look back at their Freshman team, and remember where they started their journey with their brothers.