Thanksgiving in the Malvern Community
From teachers to students and administrators, Malvern's community looks forward to spending the Thanksgiving holiday with their family and friends, each in their own unique way.
During the Thanksgiving break, members of the Malvern community take time to relax, spend time with family and enjoy the company of their loved ones.
Mrs. Harriet Lappas, Upper School Social Studies teacher, looks forward to the upcoming Thanksgiving break for many different reasons: from spending time with family to taking some time for rest and relaxation.
"Sort of catching up, I feel like it's been a race since September; things moved quickly these first two terms and so [I look forward] to getting my ducks in a row again and getting myself organized," Lappas said.
This Thanksgiving, Lappas, her husband, and kids will be spending the holiday in New York with her sister. Having now been vaccinated against COVID-19, Lappas and her family feel a sense of ease and safety while spending time together this year. 
"I'm very lucky, my sister always hosts Thanksgiving in Long Island, [New York] so I have never cooked a turkey in all these years. I do Christmas, she does Thanksgiving. So we went normal this year, there's going to be probably twenty-five of us, but everyone is vaccinated, most have a third booster so we feel kind of safe doing that," Lappas said.
Having been apart for several previous holidays, Lappas is eager to spend time with her family, particularly the "little ones" which she hasn't seen in a long time. 
"It's really fun because we haven't been all together in three years. It'll be really nice to see everyone and little ones that are [now] three years old… so looking forward to some kind of normalcy," Lappas said.
Being part of a large Greek family, Lappas's Thanksgiving meal will be a mix of traditional dishes accustomed to the holiday, but also a number of classic Greek dishes her family love and enjoy. 
"We'll [have a] big, big meal, typical Thanksgiving dinner, but there's some Greek elements to it too. My job is to do the Greek cooking, so I'm making a big pan of spanakopita, which is a spinach pie with feta cheese and eggs. And I'm making some desserts: baklava, which is Philo [dough] with nuts, and these other cookies that everybody likes. And I'm in charge of getting all the cheeses and olives and I'm also making stuffed grape leaves with rice," Lappas said. "I do the Greek stuff and my sister does all the turkey and stuffing, potatoes and all that stuff."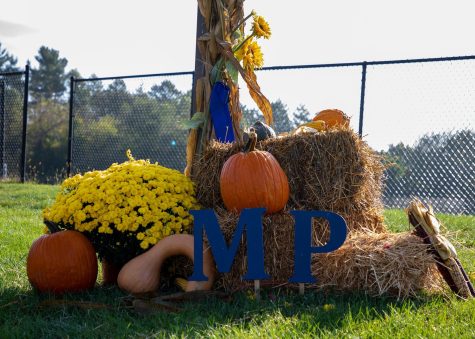 Similar to many families during the holiday season, Lappas's family has a few traditions that they celebrate on Thanksgiving each year.
"We do a go around the table and say what you're thankful for, which is good for the kids, I think and then we always play some knockout drag-down game; we're very competitive," Lappas said. "So it entails yelling and screaming and this year the game is going to be Codenames… it is a great game."
Lappas is excited for the opportunity to spend time with her extended family, but just as delighted for her kids to come back home for the weekend after Thanksgiving, yet another feeling of normalcy for her and her family. 
Similar to Lappas, Ms. Amanda Adams, a first-year Economics teacher at Malvern, plans on traveling to see her family for the holidays. While Lappas is headed to New York, Adams is taking the long trek down south to her home state of Tennessee. 
"I haven't seen my family since June, so it'll be nice to drive back down there. I'll leave after school on Friday, and will be [teaching] virtually from my parents' house on Monday and Tuesday," Adams said.
Being home for the holiday, Adams will be able to catch up with family, watch some football and enjoy being around her loved ones. 
"Usually my grandparents come over pretty early and then we just kind of hang out, eat early afternoon and then we watch football after that. I grew up on a lake so sometimes we go fishing," Adams said. 
Having been raised down south, Adams's family has a few side dishes that many PA folk might not be typically accustomed to on their Thanksgiving table, all while having the traditional Thanksgiving fixings. 
"I guess a lot of families eat mac and cheese as a side for Thanksgiving and my family will always do collard greens, that I can't stand, but… sweet potato casserole, with the marshmallows, it's horrifying, it's really good," Adams said. 
As for the classic side dish of bread, butter, and spices, it happens to go by a few different names. Is it stuffing or is it dressing?
"It depends, context matters… if it is 'stuffed' (in the turkey) it's stuffing, but if it's on the side it's dressing," Adams said. She also noted how her favorite Thanksgiving side dish is in fact "dressing."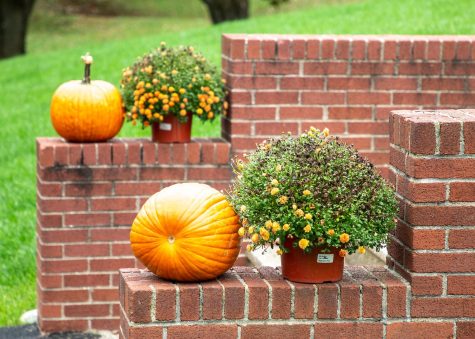 Long-time Spanish teacher at Malvern, Mr. James Kirchner has quite the unique Thanksgiving story. Kirchner, whose birthday is November 24th, was born on Thanksgiving a number of years ago.
"I was born on Thanksgiving, but wasn't born till 10:30pm, so my mother always said she cooked the food, but she didn't stick around for doing dishes," Kirchner said. 
This year, Kirchner and his family plan on keeping the celebration low-key, with just a few members of his family getting together to celebrate the special day. 
"We didn't want to go to our traditional Thanksgiving dinner at my father-in-law's house, [this year]; we suggested restaurants so nobody had to work and Veronica, our twenty-three-year-old daughter said 'I'll host,'" Kirchner said.
Kirchner feels that while his family may be celebrating in a new place, there are still a lot of traditional aspects of Thanksgiving that have been the same since he was a child. 
"The [Detroit] Lions are on at 12:30 pm, the [Dallas] Cowboys are on at 4:00, the smell of food, maybe we'll light a fire. It's been that way since my family was growing up," Kirchner said.
Though Kirchner's birthday does not fall on Thanksgiving day this year, there happens to be two other Malvern teachers that will be celebrating their birthday on Thanksgiving. 
Mr. Richard Roper, College Counselor, and Upper School English teacher, and Mr. James Wasson, Middle School Academy Leader, both have their birthdays falling on Thanksgiving this year. 
"It's always great to celebrate my birthday during Thanksgiving week. I am always with family and friends and Christmas is always a month away," Wasson said.
Wasson and his family plan on having a smaller Thanksgiving gathering this year, while making sure to keep some of his family's traditions in check.
"Thanksgiving has been different for the last two years because of the pandemic. It will be different this year too. We will be hosting a small gathering that includes my family and my mom. We usually go to another family member's house for turkey day. Keeping it small again this year. Sweatpants and football will be the theme for the day," Wasson said.
As for Roper, well, he offered a more jovial statement to him being known as a "Thanksgiving Baby."
"For many years I was under the impression that I was a "Thanksgiving Baby," but never bothered to 'verify.'  Oops.  I was born on [the] Tuesday before. But my ignorance still brought with it many happy memories," Roper said. "Now I am happy to have at least a few instances where I am truly a "Thanksgiving Baby," and I enjoy those days even more!!"
Aidan Horgan, a senior at Malvern is particularly looking forward to spending time with his family, those of which he has not seen for a little while.
"Me and my family will head down to the beach for Thanksgiving. It's the place we love most, we spend most of our summers down there. I am looking forward to seeing my aunts and uncles who I haven't seen all that much recently. Seeing them will bring a big smile to my face and theirs," Horgan said.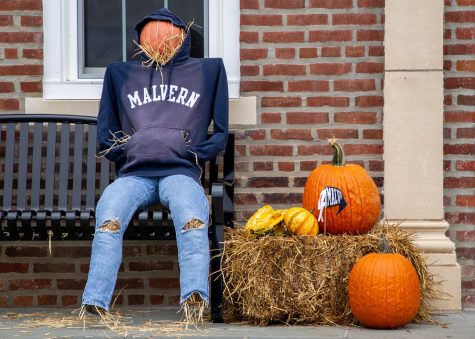 Mrs. Diane Dougherty, Education Services Administrator, and Family Outreach Coordinator, whose youngest son is currently a senior at Malvern, anticipates having all of her children home for the holiday and being able to celebrate together after being apart for the past few holiday seasons.
"We typically host Thanksgiving, so there's anywhere from, let's say about seventeen to twenty-one of us. Mr. Dougherty likes to do all of the cooking whether it be the smoker, the grill while watching either hockey, football, or basketball outside. So it's just a lot of being around family for the day," Dougherty said. 
Like many other families during this holiday season, Dougherty is excited to be together with her entire family again, after having to be distant due to the COVID-19 pandemic. 
"This I think is the first time we will all be together for Thanksgiving… my parents live in the area and we are very cautious with health and being outside," she continued.
While Dougherty loves spending time with her family for Thanksgiving, she always looks forward to the day after the holiday as well and the traditions she and her family live up to. 
"The day after [Thanksgiving] is the day that I put on everybody's calendar, we go get our Christmas tree, and we start to decorate. So we all go out, we take our two dogs: Macaroni and Stella, and we all go to a field and cut down the tree," Dougherty said. 
Just like Dougherty, Mrs. Michele Lott, Academy Coordinator, loves being able to spend time with her family, making sure they are all together to celebrate the Thanksgiving holiday. 
"I'm looking forward to just spending time with my family. I have a daughter who lives in Atlanta [Georgia] and she's coming home, so I'm looking forward to all of us being together," Lott said. 
Families during this time of year often have different traditions and customs; Lott and her family are no different. There is a special tradition in her family that has been the case since she was a little girl. This year, the tradition will span four generations of her family. 
"I've done this ever since I was a little girl. The day after Thanksgiving, we always start making our Christmas cookies, and it's been a tradition ever since then. As a little girl, I would be the cookie decorator, and then once I started having my own family then my children would help decorate the cookies, and now my niece, and now I have a grandson, so he's gonna come over too," Lott said.
As Lott reflects on this special time of year, she, like so many others, feels extremely blessed for all she has in her life and for the loved ones she holds close to her heart. 
"I just feel very blessed to be able to celebrate with my family and it's just a nice time to reflect and think about everything you are grateful for. I do feel too, so much more grateful [this year] to have everybody around; I'm really looking forward to it," she said.