Sports Team Feature: Basketball
First-year Head Coach Paul Romanczuk comments on his pre-season goals, senior leadership, and the future of Malvern basketball, while three seniors provide insight into the team's growth and their favorite MP Hoops memories.
Early in the season, Coach Romanczuk focused on the input rather than the output, equipping his players with the necessary skills, characteristics, and mindsets that would ultimately yield future success.
"I wanted to make sure I connected with the seniors and established a culture of competitiveness, toughness, and unselfishness," Romanczuk said. "But I really wanted these guys to be great teammates and I knew if I could do that, the success would come." 
Romanczuk is thankful to have been able to connect with each one of this year's seniors, noting that they have provided excellent leadership for the younger players and stepped into key roles for the Friars.
"Tyler [Lauder] is such an unselfish, tough, and physical player," Romanczuk said. "He's a competitor and you can tell by watching him that he has an attitude that motivates others and he has the ability to really lift his teammates up."
"As for Joey [Vandergeest], this has been his first year really handling the ball, of course, because he had to play behind Rahdir Hicks. But Joey has come into the role and given us stability at the position. He is a tenacious defender and has had big scoring games and knocked down some big shots for us," Romanczuk said.
"Chase [Reardon] is a player who could have been in the starting lineup this year, but he has been unselfish in accepting his role as one of our key scorers off the bench," Romanczuk said. "He has done a solid job on the defensive end and has connected on some key threes when we needed a basket."
Under the leadership of Romanczuk, senior co-captain Joey Vandergeest has grown not only as a basketball player, developing skills and helping the Friars tally up wins, but also as a young man.
"Coach Romanczuk has taught me so much about basketball, and life lessons on and off the court," Vandergeest said. "On the defensive end, I have made great strides this year; he's made defense something that you have to take personally. I am much more comfortable defending anyone on the court – obviously not their big man – than I was at the beginning of the season. I'm also learning how to be a great teammate, know my role, and do whatever I can for us to win."
Whether it be honing in on scoring, play-making, or defense, Vandergeest's role varies by game. However, one consistent thing is his responsibility to control the game and do whatever it takes to win.
"Some days I'll have to score a little bit more, other days I'll have to focus on defending and facilitating on the offensive end. I would say I don't really have a specific role on the team; I just want to do whatever I can to get a win," Vandergeest said.
Like many sports teams, the basketball team likes to have fun. There are times when they can all share a laugh, but also moments when Vandergeest works with the two other seniors to help the team remain focused.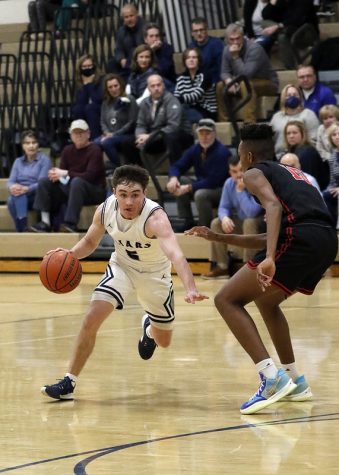 "Tyler, Chase, and I do a good job of having guys focus when we need to," Vandergeest said. "This year's team is a great group of guys who love to have a lot of fun, but when we need to lock in, Tyler and I make sure of that. We are also trying to build a new culture for Malvern basketball. With it being Coach Romanczuk's first year, we have the opportunity to lay down the building blocks for years to come."
Vandergeest's favorite memories as a Malvern Friar come off the court, spending time with his teammates and sharing experiences with Friar Nation.
"As cliche as it sounds, just messing around and cracking jokes with the team," Vandergeest said. "I'm sure I could pinpoint a game or a shot I've made or a huge win we've had, but just messing around in the weight room, going to get food, and cracking jokes in the locker room with the team are some things I'll never forget. I will add that playing in front of Friar Nation when they are in full effect is always a memorable experience."
Like the rest of the team, senior Chase Reardon came into the season with his eye on an Inter-Ac title.
"Coming into the season, we had one major goal on our minds and that was to win the Inter-Ac championship. A personal goal of mine was to be a contributor to a championship team and to be the best teammate I could be. We are still working towards that goal as the season progresses," Reardon said.
Reardon describes the team's shaky start and the aspects they focused on to turn things around.
"At the beginning of the season, we started out slow, losing our first two games of the season," Reardon said. "However, we did not quit on ourselves and kept working and learning the new offense because we believed we could turn it around. Day in and day out, we worked to become a better team, on the court and off the court."
As the season nears the end, Reardon offers a piece of advice to all Malvern basketball players.
"The advice I would give returning players is to enjoy the moment. Don't look too far in the future because the memories that you will create with your teammates are very special. Also, no matter how hard times become, if you gather as a team and believe, anything is possible. Enjoy every time you put on that Malvern Prep jersey because your time will soon come to an end."
Reflecting on the goals he set before the season, senior Tyler Lauder has worked hard and progressed toward achieving both.
"Prior to the season, I personally definitely wanted to earn all Inter-Ac honors," Lauder said. "More importantly, though, as a team, we really wanted to win the league. The seniors and I were around when the team won the league and made it to the state championship two years ago, so we wanted to make a run like that again."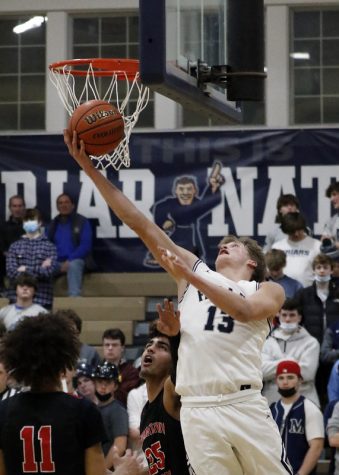 Early in the season, Lauder was named a co-captain. He speaks on how he has been living out this role to the best of his ability.
"As a senior, my main role as a player is definitely on the defensive end of the court and providing energy turning into offense," Lauder said. "As a leader, both Joey and I are co-captains and we pride ourselves in passing things down that were taught to us in previous years to the younger guys so they can keep the values of Malvern basketball."
Lauder, a three-year varsity player, recognizes that, although Coach Romanczuk's unique style of play was difficult to learn at first, it helps the team maximize its potential.
"For me personally, he has helped me transition to a position I had not really played in the past few years, which was tough in the beginning but is definitely working out in the long run. As a team, we were used to a very different style of play. Coach [Romanczuk] brought in some new philosophies and, as we get more familiar with them, we continue to play better," Lauder said.
When asked about the future of Malvern basketball, Romanczuk expressed optimism while also showing a strong focus on the present season.
"As a coach, you don't want to look too far into the future. My focus right now is on Friday's game but, obviously, you can start by looking at the three guys who are starters this year.
Ryan Williams has a gift for scoring the ball from all areas of the floor and I think has really gotten better at not letting the small stuff get to him. Like Ryan, Andrew Phillips just flat out knows how to get buckets. He's a tough guy to stop because he can score from anywhere on the court and has been someone we can depend on. Hayden Pegg is someone who, offensively, is a very unselfish player and is willing to give up shots but we are able to stick him on the other team's best player every game. As a coach, that is such a valuable thing to have."
Season Update: 2/24/22
The Friars finished 8-2 in league play and took home a share of the Inter-Ac Championship. They now have their sights set on a PAISAA State Title. Their 15-7 overall record landed them with a first-round game against The Kiski School on Friday, February 25.