February Commitment Corner
Malvern Prep athletes commit to play at the collegiate level.
Patrick Rooney: Franklin and Marshall College Swimming 
Patrick Rooney, a senior in the class of 2022, has recently committed to swim at Franklin and Marshall College. 
The recruiting process for Patrick began through his club team, where he became quite accustomed to the grueling task of getting himself on the coach's radar. After reaching out to potential coaches, Rooney began his communication with coaches and ultimately found the perfect fit in Franklin and Marshall.
"I do club swimming, as well as high school swimming. For the recruiting process, I reached out, just emailed the coaches, like, hey, I'm interested," Rooney said. "This is all through a website called CollegeSwimming, that has all your swimming times on it."
After a coach becomes interested in Patrick, they then can start the communication process.
"I just gave them a link to that [CollegeSwimming] so they can see me, and from there, I had phone calls with the coaches, asking questions about their team. They gave me some information, went on some visits to the schools and in the end, I chose F&M."
His parents and Coach Schiller were the biggest influences throughout his recruiting process. 
"My parents were my biggest influence because they've watched me competitively swim since I was nine, so wherever I chose to go, I wanted them to be happy as well. And also another part of that reason is that they'd be able to come out to watch me swim at meets," Rooney said. "Definitely also both of my coaches, my club coach, and Schiller, played a big role in mentoring me through the process and helped me out if I had any questions."
Patrick ultimately chose Franklin and Marshall because of their tenacity to win and it was where he could see himself being happy.
"I really like the team and the coach as well. I noticed when I went on the visit, they are naturally a happy team, but when it came time to race, they got super serious because everybody's there for a reason. They want to be the best in their conference. They wanted to be the best at whatever they're swimming," Rooney said. "Coach Ben knows so much and has really grown the program, since they've posted a lot of winning seasons and conference championships. It is a legacy I want to be a part of."
Patrick had the privilege of having a choice of where he would spend his next 4 years. His other options, beside F&M, was Providence College in Rhode Island.
"In the end, it came down to Franklin and Marshall and Providence College and I really liked Providence, but the fact that it was all the way up in Rhode Island was a slight deterrent. I think in the end I was happier choosing F&M because all my family members would be able to come see me swim since it's not a terrible drive," Rooney said.
Like any good teammate, Patrick has set collegiate goals for himself and has mapped out what he can hopefully bring to the team.
"Conference titles, individual wins at conference champs, but I think my ultimate goal is to try to make the Olympic trials. With the help of the amazing staff that they have at F&M, that's definitely a reasonable and achievable goal. Overall, I just want to have a lot of success as a team, as it'll help the team out for next year when our coach is recruiting to  get more fast guys in there,"Rooney said.
Patrick made sure to note that his advice to a younger Friar would be that grades are of utmost importance and to stay focused.
"Staying focused and not getting distracted from your grades are the most important things. If you're going through the recruiting process, you really have to focus on your grades because a coach can want you, but if your grades aren't good, they're not gonna," Rooney said. "It can be long and tough, but for me, I had a great life support system. My parents and coaches were all there to help me, so probably the biggest thing would be to find people that you can talk to about it. You have this forum that really does a lot for you and eases the burden of it."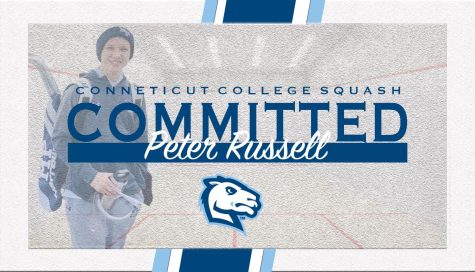 Peter Russell: Connecticut College Squash 
Senior squash athlete Peter Russell has decided to continue his athletic and academic career at Connecticut College.
"I originally started the recruiting process in March of my junior year and by July I was able to do my official verbal commitment. In December I received my full acceptance into Connecticut College and that was the simple process," Russell said.
Russell is thankful for all who have helped him throughout this process.
"For the people who have helped me the most I would say my coach, Kama Khan, and my mom, as well as Mr. Roper because he guided me through it," Russell said.
Russell chose to commit to Connecticut College because they are a thriving program that he saw himself fitting into well.
"I wanted a team with a growing program that has a chance to win a national title," Russell said.  "It was the best fit for me as they're focusing on growing the team." 
Going into next year, Russell has already identified multiple goals that he will strive to achieve during his collegiate years.
"Definitely growing as a person and as a player academically and physically. Malvern has already helped me with that," Russell said. 
Russell's advice to younger athletes is to always work hard, whether that be in your sport or the classroom.
"Don't give up if you're not getting the offers that you think you are. You just have to put your head down, work harder, keep your academics up and best of luck to everyone," Russell said.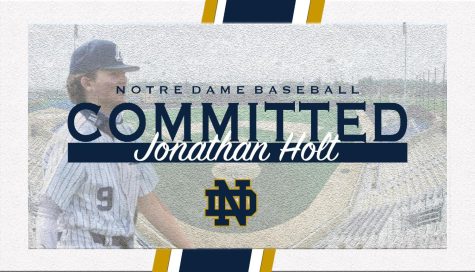 Jonathan Holt: University of Notre Dame 
Jonathan Holt joins a very promising sophomore committed class, after deciding to spend his  three to four years of college at the University of Notre Dame. 
The recruitment process started for Holt the summer of his freshman year and took off quickly, where he described his process as stressful, time-consuming, but in the end, "all worth it."
"It was a lot of work. There's a lot of stuff that I had to do to keep a handle on  things and kind of control, such as having a bunch of coaches phone numbers reaching out and texting me," Holt said.
Holt had a lot of experience in his corner as his coaches have the privilege of "knowing." His biggest influences in his process were Coach Freddy Hilliard of the Friars, and his travel coach Mike Manning.
"Freddie, Coach Brady Hillier, and Coach Mike Manning also really helped me out a lot. They set me up with a few coaches that I really liked and they really guided me and helped me throughout the process," Holt said.
Notre Dame stood out to Holt when he stepped on campus because it immediately had that "home" feel to it.
"I felt when I went there, all of the coaches were a great fit and the facilities were really nice and stepping on campus just felt like home, " Holt said.
In the end Holt was able to get his list down to four schools, Notre Dame, Duke, Boston College, and Lehigh. He has plenty of goals for his collegiate career, but for starters  he wants to put himself in a position to contribute right away, as he also has aspirations for professional baseball after he graduates
"I want to be prepared. I want to be able to play as soon as possible, and I want to eventually try and get drafted. So I'm gonna try and work for that," Holt said.
Holt's offered advice to younger friars who are about to go through the process is to work hard no matter what.
"Just put in all your work and put your head down. Don't pay attention to what anyone else is doing and just work hard and get yourself out there. Put your name out there, go to some showcases and start working hard," Holt said.