Apple Pie and Rugby: Like Peanut Butter and Chocolate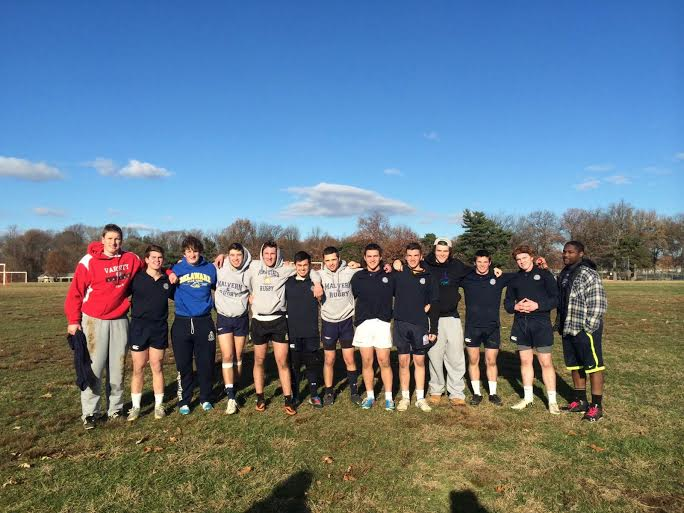 The day after Thanksgiving is known for recovery from food and sales.  But, to a select few, it is much more. Every year, the day after Thanksgiving is the Apple Pie 7's Rugby Tournament. The tournament is popular with teams of all levels in Philadelphia, whether they be high school, college, or professional. This year was the tournaments sixth year. It has expanded to 20 teams.
Malvern has always had a name in this tournament, especially this year because they are coming off a season where they were the number two team in the nation. Two Malvern teams were present, one of current students and one of alumni. The student team, crippled with only nine players, did not fare so well. Losses to St. Augustine's, St. Joseph's and a close loss to Shanahan left the Friars in a sour mood. This is mostly in part to the fact that the teams Malvern played were comprised of players who had practice and played in leagues during the whole fall season. However, not all is lost. Promising performances by Sean Kelly '17 and Luke Stratton '17 hints that Malvern will be a team to beat in future years. The alumni were a different story, with 2014 graduates and Shannon Green '12 brandishing their old uniforms as jerseys, they went undefeated.
Though it may sound like fun and games, this tournament has a serious purpose. It was founded in order to benefit Josias A. Sterling, a St. Joseph's Prep and Temple rugby alumnus who drowned off the Jersey shore. He is honored each year at the tournament and through the tournament's donation to the Make-A-Splash foundation in North Philadelphia.
"I appreciate that we have been one of the mainstays." Said Coach Boccuti. This tournament is literally fun and games, it has a much greater importance to the rugby community in this area. Not only is it just an excuse to get out and play, but it is also a demonstration of a rather unheard of sport to a much broader audience.
It may appear that Malvern only participates in this to benefit a good cause, but the connection is much deeper. "I had played rugby with the guy that passed away, I was the captain when he was a freshman, so the fact that he passed away did hit me….And that's one of the good things about rugby, no one gets a trophy but everyone smiles and has fun and raises money for a good cause." Remarked Coach Boccuti. This is just one of many examples of the unity that exists between rugby players.
On a lighter note, the coach had this to say about the team's performance: "I think it's good we made a show because we are becoming one of the premier teams in the region for sevens rugby and we chose not to participate in the newly formed sevens league." He later remarked that if we had numbers he could field a freshman sophomore fifteens team this spring and a sevens team for the EPRU sevens league in the fall.