Del's Groove rocks "Camp Out for Hunger" on Preston & Steve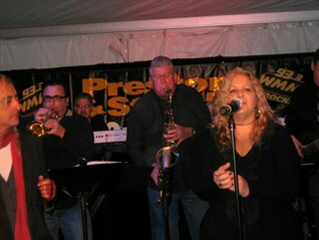 On Friday, November 29th, Malvern's own band leader Mr. Emmanuel Del Pizzo and his band Del's Groove appeared on WMMR's The Preston and Steve show to support their "Camp Out for Hunger" benefit at the Plymouth Meeting Metroplex.
Del's Groove provided the crowd with classic entertainment, including a cover of the Commodores' "Brick House," where Preston hopped on the drums. Mr. Del Pizzo was able to miss Friday morning classes only on one condition, a caveat given by Mr. Valyo—Preston and Steve must, in some way, mention Malvern Prep. And they did, at about 7:00 AM. Preston's a pretty good drummer, too, as you can see in this video. He's also been in a "drum-off" with Mike Portnoy, former drummer of Dream Theater.
"Getting up at 3:30 AM for a 5:30 stage call time was exhilarating and exhausting at the same time. It was a great cause, Camp Out for Hunger, and all the WMMR personnel were awesome! I would love to see if we can get Malvern Prep involved if we are asked to play again next year!"
Just as "Del" is talking with me, he is asked back to the Preston and Steve Show next year. To find out more about Del's Groove, check out their Facebook page, their Twitter, and visit their website at www.delsgroove.com.