Men's Chorus sings at Chester County's Naturalization Ceremony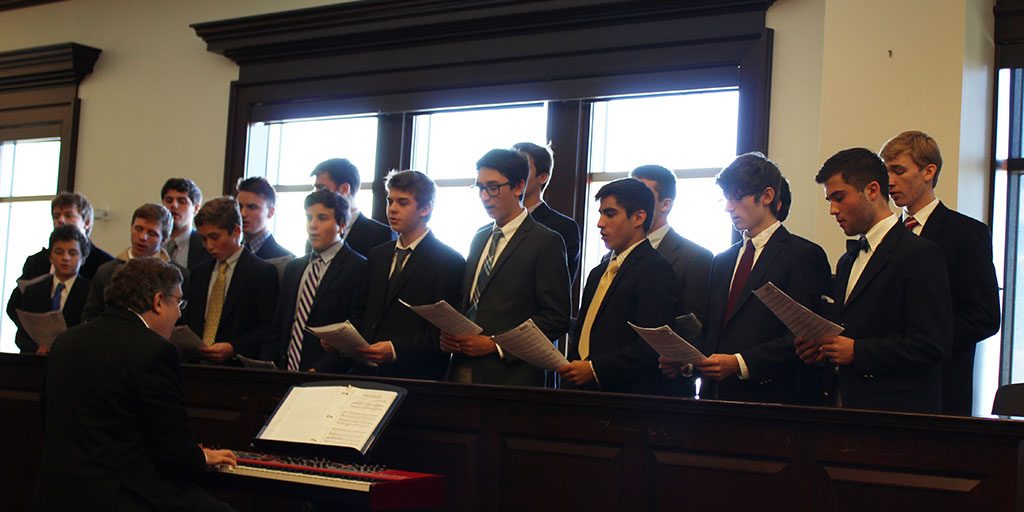 Steve O'Meara
December 22, 2016
Men's Chorus first sang at the event four years ago.
Malvern Prep's Men's Chorus sang at the Chester County Courthouse on Nov. 4 at Chester County's Naturalization Ceremony, in front of brand-new American citizens.
The process of becoming a naturalized U.S. citizen is rigorous and extensive, with an application, interview, and English and citizenship tests. The Naturalization Ceremony is the last step of that process.
The new citizens inducted on November 4 came from more than 20 countries.  
"The experience to be in front of a bunch of people that are trying to be nationalized into our country and to sing for them was phenomenal," freshman Andrew Batters said.
The ceremony was comprised of three separate parts. The first part included the introduction of the judges, the acknowledgement of each individual's new citizenship and dis-allegiance to their former country, and a presentation of a few gifts to each new U.S. Citizen.
Next, Malvern's chorus sang three songs: "God Bless America," "America the Beautiful," and the National Anthem.
The end of the ceremony featured two speakers, each with a different message. The first speaker was local volunteer and Emergency Management professional Michelene McCloskey. Her message was that Patriotism does not have any political ties. "Patriotism is about people helping people," she said.
The second speaker was attorney Rosana Chiple, who chaired the ceremony. Chiple immigrated to the U.S. with her mother and gained citizenship. She said that the main reason works with the naturalization process is because she wants to see each person's life change.
After these speeches, Judge Jacqueline Carroll Cody finished the ceremony.
Prior to the ceremony, music teacher Mr. Ed Liga said that the students were very excited. "They were really pumped up, because usually when a lot of performing groups perform, it's a concert," he said.
The men's chorus first attended this ceremony three years ago, according to Liga.
"It can be a great teaching exercise for the students who go," Liga said. "It's not everyday you get invited to something like that. I never went to anything like that when I was a kid."
Because security is a big factor at the courthouse, Liga said they had to pre-record the songs on a CD in case he could not bring the keyboard. Liga was able to bring his piano into the courthouse, but it had to be thoroughly examined and checked for any harmful substance or weapons.
Spectators of the ceremony could not bring in their cell phones. Students were expected to wear formal dress
Men's Chorus members had a great day, and an even better day after they all stopped for a pizza lunch after the ceremony in West Chester.