Freshmen adjust differently to high school workload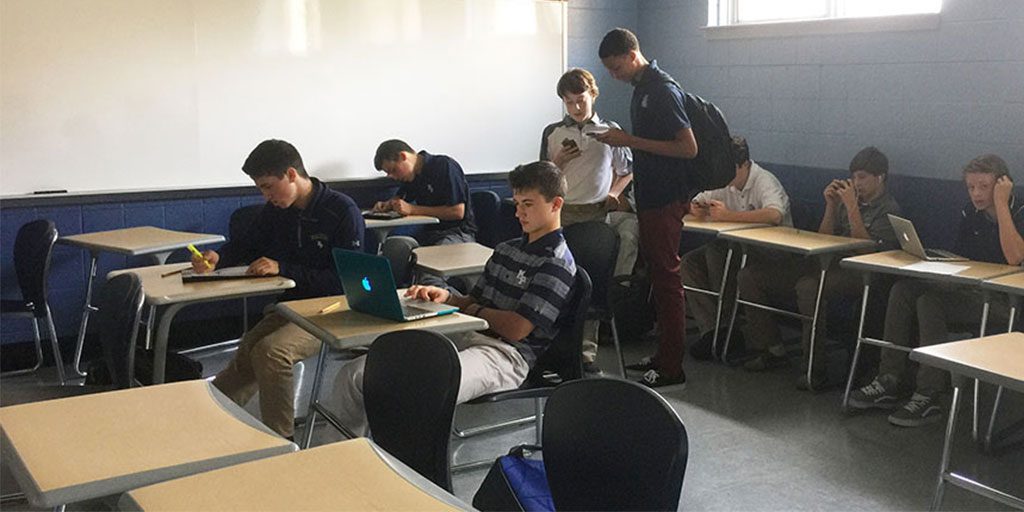 Zach Hurchalla
March 1, 2017
In the third quarter, students at Malvern Prep are still acclimating to the new school, new teachers, and the freshman workload.
The acclimation to Malvern Prep's freshmen workload is different for every student. Students are coming from different middle schools, and may not yet be used to the environment, teachers or the school itself.
Many factors that change the workload for freshmen, or how you deal with the work you are given, such as extracurriculars, what school you attended, and the classes you are taking.
Freshman Connor McNally said the the amount of work he receives is reasonable but challenging.
"The freshmen workload is not that bad, although some classes may give you more work than others," McNally said.
He noted that two of his classes, Biology and Literature and Composition, keep him busier with homework more than some other classes do.
Associate Director of School Counseling Mrs. Ann Wuetig-Coia said that freshmen can use Malvern's unique schedule to their advantage.
"Malvern has designed their schedule so there's not a lot of homework at night; if you use your time well, you can get a lot of your work done during the day," Wuetig-Coia said.
Freshman Zach Fantini, who has attended Malvern since middle school, stressed the importance of time management.
"Participating in extracurriculars really prevents you from leaving things to the last minute, even with the time available built in to Malvern's schedule," Fantini said.
The process of assisting incoming freshman starts far before the school year. In order to help the incoming freshman students, counselors work hard on accurately placing those students into the correct classes.
"In order to place the incoming freshman into the classes that are a good fit for them, the factors we look into when placing the students are teacher recommendations, entrance exam, and past grades," Wuetig said.
Once the school year has started, the students are not left on their own. Counselors meet with the freshmen regularly to see how they are acclimating to the new environment, and to see if there is anything else they can do, according to Wuetig.
Teachers are also readily available for students to talk to for extra help.
"From what students say, teachers try to hold their hand and instill a sound foundation in the first semester," Honors Literature and Composition Teacher Mrs. Sue Giordani said. "And then in the second semester, we start going into detail and stop holding their hand."