Teachers have freedom to teach at own styles and paces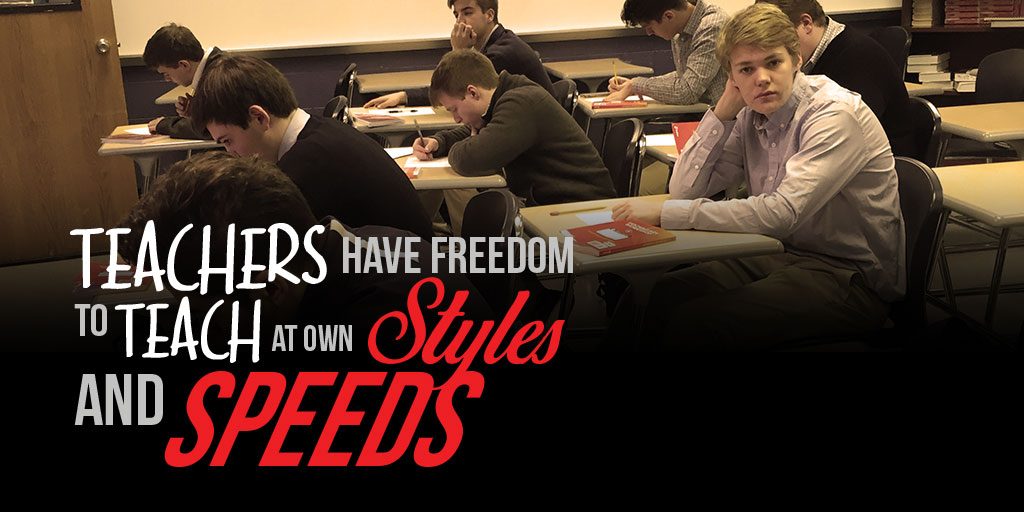 Some sections taught by different teachers under the same class title differ in style, but members of faculty and administration said there are benefits to this model.
With multiple sections of honors level classes, the workload and challenge level seems to depend on the teacher, according to some students.
Junior Louis Margay currently takes Honors British Literature. He got Mr. Richard Roper for his section, and he faced a tough decision going into the class.
"I knew I was going to have a lot of work," Margay said. "I definitely contemplated dropping it, but I knew that if I want to succeed in college, I can't just drop all my hard classes."
In Honors British Literature, there are four sections, each with a different teacher. Roper teaches two sections, while English Department Leader Mr. Francis Rogai and Dean of Students Mr. Tim Dougherty teach the other two sections.
In contrast to Margay, fellow junior Nick Villano said that he was relieved when he got Rogai.
"If I got Mr. Roper, I would have dropped down to academic due to the level of stress involved in Roper's class," Villano said. "I had already made this decision with my counselor before the end of sophomore year."
Roper said that the amount of students who dropped his class is around double figures.
"I understand it. I didn't like it, and in some cases I didn't agree with it," Roper said. "I understand that there is an expectation I have of Honors level students that they may be nervous about whether or not they can handle."
Head of the Upper School Mr. Ronald Algeo indicated that this sort of variance in challenge level among classes – whether perceived or real – prepares students for the reality of college.
"In college you will have courses that are offered with all types of different professors and you'll hear things like, 'Don't take this class because the teacher's harder or take that class, the professor's easier."
According to Algeo, it's not that one teacher is better, or harder, or easier than another. They just have different teaching styles.
"Every single teacher has the opportunity, with the expectations of going deeper within topics, to bring their own kind of passion and personality to it," Algeo said.
Roper acknowledges that his Honors British Literature class does have a reputation. He does not reject it, however.
"I have to be honest and say I am happy with it because I'd rather be thought difficult than easy," Roper said. "Because I think at an Honors Level, we need to be constantly challenged. You have to have a level of high rigor, both in volume and material. To prepare you for a scenario that you may get in college, graduate school, or in the workplace where you will have to devote a large amount dedicated time almost every day to a task you have to fulfill."
Students don't just feel the discrepancies in Honors British Literature. Another example of a class with different teachers having different perceived levels of difficulty is Honors Physics.
Science teachers Mr. Michael Koenig, Mrs. Vernice Mulcahy, and Mrs. Laurie Peslak all teach different sections of the class.
Junior Austin Laudadio signed up for Honors Physics this year and got Koenig, not knowing much about how the class would be.
"Going in, I knew very little beyond the fact that it was a really tough class," Laudadio said. "My thoughts were confirmed after Mr. Koenig told our class in the first week that class averages on tests were about 70s. So I was a little scared for that first quiz."
Laudadio said that the class this year has been "crazy" and that his grade fluctuates constantly. However, he said that he has a better grip on the class than at the beginning of the year.
"I would not say the workload is overwhelming by any means," Laudadio said. "Yes, the class is tough, but only due to the tests and quizzes."
Junior Tim McLaughlin got Mulcahy for his Honors Physics class.
"I was expecting pretty rigorous work and a lot of math," McLaughlin said. McLaughlin said that the class is moving at a nice pace to both retain and learn material.
However, Laudadio said that his class moves at a very quick pace. "It seems we are onto a new topic every week or so," he said.
Science Department leader Mr. Kevin Quinn said that different sections of the same class communicate with each other to make sure they are hitting similar topics.
"They talk with each other quite a bit to see what the priorities are for the course," Quinn said. "But to a certain extent, we also encourage them that they don't have to do it all in lockstep."
In Honors Physics, Laudadio said that Koenig's style is more lecture-based, while McLaughlin said that Mulcahy's style involves more projects.
"We have built catapults, model boats, and done other labs and projects to help us better understand topics covered in class," McLaughlin said.
Quinn said that this difference in teaching style of these two sections of Honors Physics as an example is actually a good thing for students.
"Teachers may differentiate [their styles] for different student's needs and also what teacher is in the room," Quinn said.
Quinn used AP Biology as an example. Mr. Stephen Borish and Mrs. Anna Geider both teach the class, and while they may teach the class differently, the classes still accomplish the goal of preparing students for the AP test.
"Mrs. Geider's class chooses to do their topics in a different order. And that's fine," Quinn said "We want to give teachers their autonomy. And that is one of the reasons we are at an independent school. At a lot of public school settings, there is a set curriculum that you must follow at a specific order at a certain pace, and teachers really lose that control to really get to know their students to say, 'Is it the right time to move on with these guys or not?'"
Quinn recalled how he and Koenig taught Honors Physics two years ago. They taught in different ways, but still covered the same key topics. Some topics just had more emphasis than others based on both tailoring to different students' needs and also tailoring to the teachers' own strengths in explaining subjects.
"I went into a lot of depth with light and sound, because it is something I think is very important and worth getting into," Quinn said. "[Koenig] went into less depth with it and went into more depth with circuits, but we still covered the same fundamental concepts either way."
The sections within Honors British Literature experience many of the same factors Quinn explained.
Rogai said that the Honors British Literature is centered around studying British novels and texts. He said that the set of books read in each class differs, but the three teachers are allowed to have this freedom.
"The faculty have the chance to teach texts that they are interested in because that type of passion can be contagious to the students," Rogai said.
Not only do the books differ, but the teaching styles do as well.
Roper said that his class is more lecture-based and regimented, but he has been open in recent years to shifting his style.
"I've most recently using the conversation-discussion element of things," Rogai said. "It's very difficult to strike a balance between having to get information to the students and having time to be able to discuss that information after they have read the material."
Margay explained that Roper's class is constant work. He spends around one to two hours every night preparing for Roper's every-class reading and vocab quizzes. He said that he and his classmates also prepare and deliver presentations at least once a quarter.
"It's been hard, but definitely manageable," Margay said. "It is not impossible or anything. If you just study hard and do all the work, you'll get a good grade."
Roper gives every-class assessments for the benefit of students who do the work.
"I am a firm believer in rewarding students for what they do by being able to show me that they've done it," Roper said. "If they choose not to do it, well then you will pay the price for it also."
In contrast, Villano said that Rogai's class is not constant work.
"Class time can be a little bit slow but that seems like a fair tradeoff for the lighter workload," Villano said. "It isn't like we have really easy assignments though."
Those assignments mainly consist of essays, presentations, and an online vocabulary program called Membean. Villano said that Rogai assigns fair tasks which challenge his students.
"I am 100 percent improving as an English student," Villano said. "My writing skills are improving a lot due to the nature of our essays and the constant revisions even after the main essay is due."
Rogai said that even though the teaching styles of his, Roper's and Dougherty's classes are different, they still accomplish the goal of preparing students for the AP Literature course.
"We all have distinct personalities," Rogai said. "I think we are supportive of the work the students are doing in each class."
Algeo recognized that sections in an Honors class may have different dynamics with different teachers. However, he wants students to not worry so much about the teacher but about their own commitment level to make the most out of the class.
"Being in an honors level class doesn't automatically mean you are prepared for something or get you to the next level, or mean you are someone who should be lauded or praised," Algeo said. "It actually means nothing in the grand scheme of things. If you are in an honors level class, you need to take all the opportunities you have."