Malvern students work despite other responsibilities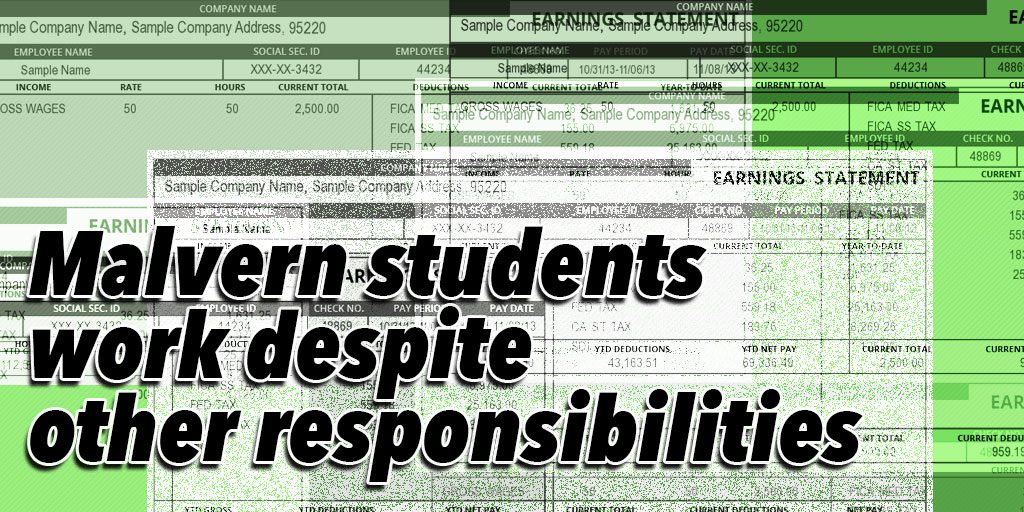 Working students gain valuable real-world skills by learning to juggle schoolwork, activities, jobs, and money.
Some Malvern students have various responsibilities that occupy their waking hours. From homework to sports to activities, adding any more commitments requires time-management skills.
One of these extra possible commitments includes a job, and it is clear that lesser amounts of teenage students in the country are making this a priority. The current percentage of teenagers who are employed has dropped to an all-time low, according to a Pew Research study released in June 2015. At no point during the year, including the peak summer months, were more than 33 percent of teenagers hired.
According to USA Today, the reasons for why the rate of teen employment is decreasing is because of fewer low-skill, entry level jobs than in past years, more schools starting before Labor Day, more students taking summer classes, more teens doing unpaid community service work, and more students doing unpaid internships.
Despite this, many Malvern students have chosen to take on a job. Several of these students work during the school year like senior Sam Charlton.
Charlton works at Buckman's Ski and Snowboard Shop in King of Prussia. He sells skis and fits people for ski boots. Buckman's is a very busy store especially during the school year – fall, winter, and early spring.
The work at Buckman's keeps Charlton busy. He said that he always makes sure he has time for his school work despite his job responsibilities.
"I always have time before or after work and I will just stay up later and I will find time at school to do my work," Charlton said. "I have had a couple conflicts, but they are pretty flexible and understanding that I have school work to do and school comes first."
Charlton said that the main reason he works is to save up money to use at college next year. Fellow seniors Sean Christman and AJ Fantazzia have the same motive in working for the Main Line Sports Center in Berwyn.
The Main Line Sports Center is a 72,000 square foot indoor training facility with five large indoor fields, and it is their job to check people in at the front desk.
Christman and Fantazzia both said that the job is easy-going.
"I'm pretty lucky in that my job allows me a lot of free time at a desk, so it's not really hard to get work done if I need to, and I have access to a computer so it's pretty easy to get stuff done," Christman said.
"It's easy work. Sometimes I get to do homework at the front desk when hours are slow," Fantazzia said.
In addition to working at local businesses, some students do "odd jobs" around their area. This includes sophomore Charlie Andress.
"I make my money in the winter by shoveling snow," Andress said.
Freshman Kyle Faggioli also snowplows driveways in the winter. In the summer, he works for his dad.
"In the summer, I pave driveways and clean trucks," Faggioli said.
Faggioli had to get a work permit in order to work under his dad. In fact, all minors must apply for and obtain work permits to work at any licensed employer in the state according to the Pennsylvania Child Labor Law.
Junior Nick Villano, a sales associate at Target, explained that obtaining the permit was not difficult.
"You just need to bring your birth certificate, social security card, and maybe a few other things," Villano said. "It doesn't take long."
Once working students receive their paychecks, money management is another responsibility they deal with. Many students turn to using either a debit or a credit card.
Andress and Faggioli both agree that debit is the way to go because they do not have a steady income.
"When you don't make a steady income debit is better, because you need to make a steady income to pay back credit debt," Faggioli said.
"I would definitely recommend the debit card just because I feel like it's safer, and it stops people from digging themselves into a hole," Andress said.
Seniors Luke Matzke, who works as a camp counselor, and Jimmy Dugan, who works as a busser at a restaurant, agree that credit is a better choice because of it's utility in difficult situations.
"[Credit] helps so much when it comes to getting gas," Matzke said. "It's also great when you're in a sticky situation and you need money."
"Just be smart. Most people won't do anything stupid with it," Dugan said. "You also have a little more freedom with it."
Making and managing money is a valuable skill to learn at any age, especially in high school. Director of School Counseling Mr. Paul Simpson thinks it is great for students to work if they have the time.
"We ask students to get involved in a lot of things here at Malvern so I think for some students who don't play a sport for a season or can squeeze some hours in, I think it's great," Simpson said. "It teaches discipline and different responsibilities you have at the workplace."
Senior Brandon Chiazza said that It takes a motivated person to work while dealing with the day-to-day responsibilities of a high school student.
"As long as you have your priorities straight, and make sure you're getting your school work done and keeping on top of sports and other activities, then there's nothing wrong with having a job during the school year," Chiazza said. "But you have to be ready for a busy schedule."