Malvern joins Mastery Transcript Consortium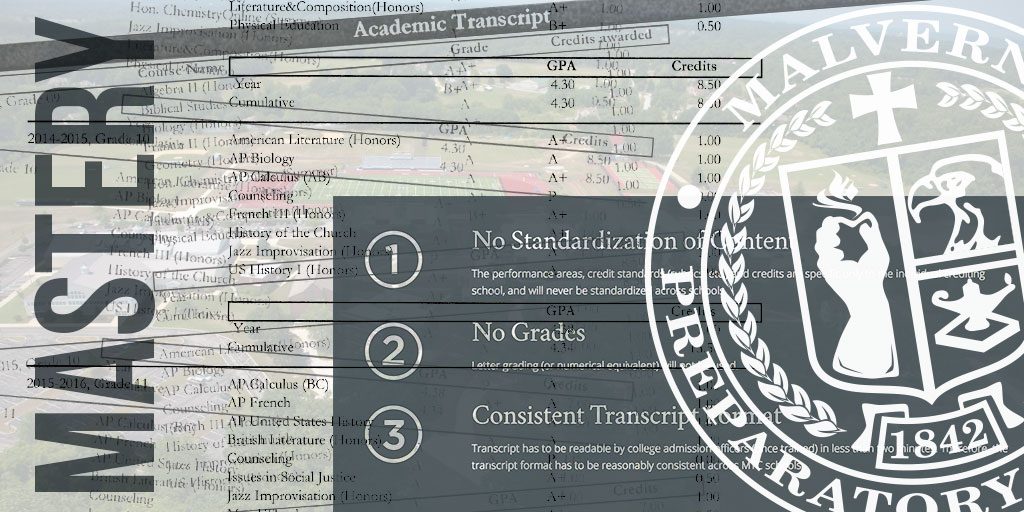 The Consortium seeks to change a major aspect of college admissions and, by effect, education as a whole.
Dan Malloy '18, Teddy Hawke '20
This year, Malvern became a member of the Mastery Transcript Consortium (MTC). The consortium is a group of high schools that seek to remodel the traditional college transcript, according to its website.
Head of the Upper School Mr. Ronald Algeo explained that Malvern joined this group because it wants to demonstrate a more comprehensive view of its students to colleges.
"We want to use the transcript to tell more of your story," Algeo said.
He explained that there are inherent problems within the current college transcript.
"So some college admissions officer is looking at this piece of paper, and that paper is you," Algeo said. "And it's got letters, and a number at the bottom. Does that tell your story of your growth at Malvern Prep?"
[perfectpullquote align="right" cite="" link="" color="" class="" size=""]"I'm not saying it would be something where we take away letter grades or GPA's, because frankly we are a college preparatory school and if the colleges say 'we want that,' it's staying there."
-Mr. Ron Algeo[/perfectpullquote]
The answer to that question is no, according to Algeo.
"The experience that our students have at Malvern is really a large experience. And I hate to use this word because some people think it is kind of trendy, but it is holistic," Algeo said.
In order to capture and display that "holistic" experience to colleges during the admissions process, Malvern accepted an invitation to join the MTC this past year, according to Science Department Leader Mr. Kevin Quinn.
"We were one of [the schools selected] because of the things we are doing here, in particular the Engineering course and how we were approaching that," Quinn said.
Quinn said that Malvern received an E.E. Ford Grant to help facilitate the project-based Engineering course. The person awarding the grant told Malvern about the MTC, and the school thought it would be a great idea to join.
"That put us in contact and got Malvern Prep on that list to be invited," Quinn said. "It's not just, 'Hey, anyone can join if they are willing to help out.' This was a very, very elite list of schools."
According to the MTC website, there are currently 72 schools involved in the MTC, with 14 founding schools and 58 member schools. Malvern is a member school. Every school in the MTC is independent.. It is a national movement, with members spanning geographically from New York to Hawaii.
Faculty and administration have attended two conferences thus far with the MTC, one in Cleveland in October and one in Baltimore at the National Association of Independent Schools Conference on Wednesday, March 1.
At the conferences, the MTC figured out what sort of things they would want on this remodeled transcript. One of those things is an evaluation of how students have developed their own unique skills.
"It wouldn't be just a nice portfolio of other things in there, although that would be helpful but an evaluation of those skills and how they have been built," Algeo said.
Quinn explained that the new transcript will focus less on just grades and numbers, but more on the competencies developed and measured in each class.
"Do we really want to assess physics, or do we want to assess critical thinking skills? Do we want to assess English, or do we want to assess communication and presentation skills?" Quinn said.
Along with this, the transcript will put a focus on qualities of the student existing outside of the classroom according to Quinn and Algeo. Quinn said that it will not be like a portfolio where it is long and unwieldy for college admissions officers.
"We have to develop a software program that talks to college admissions," Quinn said. "We have to develop a software system that can talk to the systems already in place."
Junior Scott Sander thinks that the transcript is fine as it is.
"I feel like the other parts of the application can handle everything," Sander said. "In some cases extracurriculars can help reinforce the application, but I think the application process and everything in it now are fine."
Those other parts of the application include essays, resumes, and letters of recommendation. However, Quinn explained that having an evaluation of your extracurricular involvements and skills on the transcript can provide more credibility to an application.
"If [colleges] can go and actually see what you have done, rather than a note that you wrote on an essay, or as opposed to a note that I wrote in my college letter, maybe that will be the thing that gets you over the hump," Quinn said.
Freshman Kyle Faggioli thought the broader transcript would be good, showing more of what a student is capable of than what their core classes and GPA currently does.
"I think it's good. I think a lot of people maybe don't have the grades for some of these really good colleges, maybe they're just short of it, and I think those other stuff like extra activities like extra curricular activities show that they really did try and they have other talents other than the core classes that they did," Faggioli said.
Faggioli said adding extracurriculars and other student-involvement to a transcript would make for a more competitive college application process and could also better prepare students for the work environment.
"I think that this teaches people for the work environment that you have to do more than just the minimum but also, like I said it could teach people that they don't need to work as hard but overall I think that it would be better," Faggioli said.
The question of what to do with GPA still remains. Algeo said that GPA will still remain on the transcript if colleges want it.
"I'm not saying it would be something where we take away letter grades or GPA's, because frankly we are a college preparatory school and if the colleges say 'we want that,' it's staying there," Algeo said.
According to the MTC website, the mastery transcript will not use letter or numerical grades in any form, but schools may choose to "offer the Mastery Transcript as an option for some students while others may choose to be assessed and transcripted in a more traditional way."
So, grades could go away from Malvern's transcript at some point. However, that would be in the very distant future, Algeo explained.
"It's so early, we have no idea," Algeo said. "It is in the design phase right now. We have no idea what it is going to look like. We have no intent of getting rid of anything."