Meet the scampi master: Billy Wolfe '17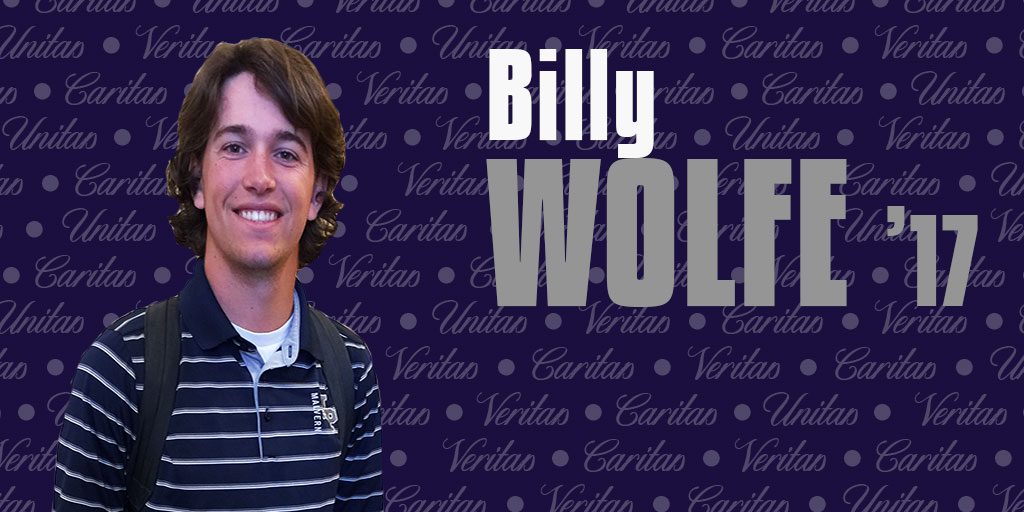 Memorable high school experiences? Brotherhood, Fiji, and shrimp scampi.
Reflecting back on his time at Malvern, senior Billy Wolfe notes that building the brotherhood is a process, cemented on the field, overseas, and in the classroom.
Wolfe grew up in West Chester and went to St. Agnes' grade school before coming to Malvern. He chose to come to Malvern for its small class sizes and overall sense of community.
That community became his favorite part about the school.
"That sense of brotherhood, you hear a lot about it freshman year," he said. "Every year, and pretty much every day, you get a clearer and clearer sense of exactly what that means. The feeling that you can look at every single member of your class and really feel like you're close friends and that they're really your brothers is something that I don't think you get at just any high school."
For Wolfe, MECO cemented the brotherhood for him, but what added to that even earlier was his Christian service trip in the summer before his senior year.
"The Fiji trip was unbelievable," Wolfe said. "It was a great group of a couple guys I've been close friends with and then a couple guys I hadn't known as well, and I thought the 11 or 12 guys that went on the trip, we're all really good friends now just because of the experiences we shared there. That was an unbelievable bonding experience."
Outside of class, you can find Wolfe making moves in the stock market game, planning intramural sports with the intramural committee, or playing second base for the baseball team.
Wolfe helped the baseball team win a share of the Inter-Ac championship last year and he hopes the team does better this year.
"Last year, we had a good year," he said. "Hopefully this year will end a little better and not share the Inter-Ac which was not a good time."
Senior Matt Daller plays baseball and went to Fiji with Wolfe. Daller praised Wolfe's athletic ability and character.
"Great baseball player. I love playing with him and I can always rely on him," Daller said. "I was already friends with him going into Fiji so we really just grew closer. [He is a] great kid all around and always knows how to get a smile out of someone."
Off the baseball field, Wolfe has taken Latin for the past four years, and Ms. Molly Waldron has taught Wolfe in Latin for the past two years.
"Billy is a very committed student, I can tell. He's always willing to go above and beyond in the classroom. Does everything I ask him; he's always very eager to make sure it's correct," she said. "I can tell he takes a lot of pride in his work."
Waldron praised Wolfe's humor and leadership ability in classes.
"He shows a good combination of humor and dedication to the class," she said. "He'll make everyone laugh on the one hand, but on the other hand— as soon as we're back to work— he's a leader."
In addition to school and activities, Wolfe might just be cooking your next dinner.
"A couple summers ago, I thought I was going to be washing dishes at this restaurant," he said. "I got a job, and they told me I was the sautée cook, so I learned how to cook sautée. Now I kind of enjoy cooking and stuff and sometimes I'll cook for my family."
His go-to dish is shrimp scampi.
"It's crazy, people go down to the shore and they go to this restaurant and they pay 30 dollars, and you think some guy's cooking it up and it's just me in the back throwing shrimp in the pan," he said.
The road to becoming a sautée cook isn't always easy.
"It was definitely scary at first," he said. "The first couple weeks there was a couple times [when diners sent his shrimp scampi back]. Too dry. Too much sauce. Burnt. All kinds of stuff. It got sent back and I was berated a little bit. But we got through it."