Brandon Moore '17 excited to attend dream school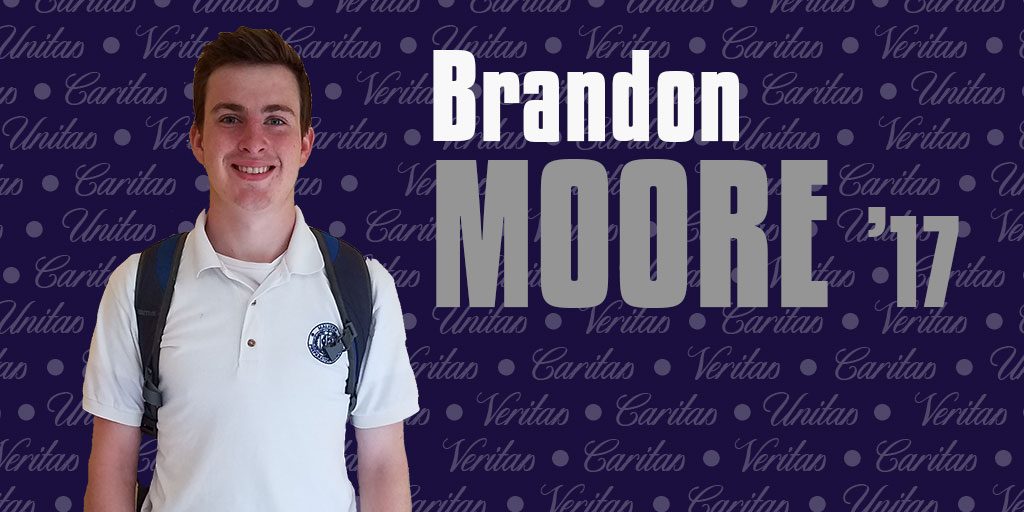 John McClatchy
April 28, 2017
Senior Brandon Moore has made the most of his Malvern experience, participating heavily on the rugby team, diversity awareness club, and guitar ensemble.
Moore said that his older brother Austin Moore '11 played a big role in coming to Malvern in the seventh grade.
"I went to his graduation, met Father Flynn, and I just loved the school," he said. "It's a beautiful place, and made a ton of beautiful connections. I saw the connections that he made with his friends when they hung out, and they always talked about Malvern."
Austin rowed on the crew team when he was at Malvern, and attended Dartmouth College after graduating.
"I knew that if I came here, I could probably go to my dream school as well, and I did with Syracuse," he said.
He plans to pursue communications and business at Syracuse, as he has wanted to be in broadcasting since he was a little kid.
"I always loved sports broadcasting, and just sports in general," he said. "I knew Syracuse had one of the best broadcasting schools in the country, and a really good business school. So I wanted to go to [Syracuse's communications school] Newhouse from a young age, and fortunately enough I'm going to be studying both next year."
Moore said he was able to point to the exact moment he knew he would come to Malvern.
"I went to the first Morning at Malvern," he said. "The second after I went to that, I knew I was going to be a Malvern brother."
Moore said he tried rowing at first, but switched to playing lacrosse when he came in seventh grade. Things didn't work for him, and he eventually joined the rugby team in in his junior year.
"I didn't really like lacrosse," he said. "It wasn't my true passion. I switched to rugby, and I ended up loving it. I've been playing it since my junior year and will be playing it in college."
Senior Matt Hollingshead has been friends with Moore since the seventh grade, and described him as a "unique personality."
"[He has] a lot of energy, and says some stuff that doesn't make sense sometimes," Hollingshead said. "But overall he's a positive energy at this school, makes a lot of people laugh, and is just a good guy."
Hollingshead said that he and Moore are very competitive with each other.
"We like to play a bunch of different sports against each other," he said. "Stuff like ping pong, golf, tennis, basketball, whatever we just love to play sports and play against each other."
Senior Greyson Phelan said that he and Moore participate in other activities besides sports, such as fishing. He also said that Moore tends to get along well with parents better than most.
"My parents think he's alright," he said. "They've had some differences, but they get along well now."
Besides rugby and being with friends, Moore said he spent a lot of his time working with the Diversity Awareness Club, which seeks to make Malvern students aware of the different types of diversity a group of people can have.
"When I was in eighth grade, my brother came out to me as gay, and I knew I needed to set examples on campus to people who don't really understand human sexuality," he said.
He is also part of Malvern's guitar ensemble, which is a class that performs twice a year at Malvern's arts festivals.
"Through Mr. Liga's beginner guitar class, I found a true passion for music and guitar as a whole," he said. "Ever since I took that class I've played guitar and participated in the ensemble for the past two years and that's something I'm truly passionate about and want to pursue in college."
Moore said he was seen as having a good sense of humor ever since he spelled the word kitchen as "citchen" in the Middle School spelling bee.
"Everyone was laughing," he said. "I didn't even notice because I was so nervous. I asked why everyone was laughing because I got it right, and everyone said I said 'c' while I was certain I said 'k.'"
From that point on, Moore said he was called "kitchen," and that he had a reputation of being a funny person.