Artist of the Issue: PJ Murphy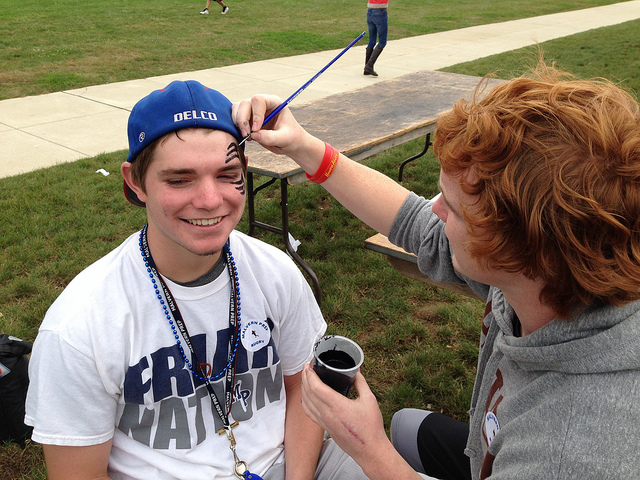 Senior PJ Murphy is a constant in the visual art studios in Duffy.  He is completing his fourth year in Studio Art and this year is also a Graphic Design student.  Here, PJ shares some ideas about the role visual art plays in his Malvern career and in his future plans.
See an album of PJ's artwork and his Graphic Design working portfolio
WB: How has being a 4 year member of the arts department helped your all around Malvern experience?
PM: I think it's important to have a strong base in the arts because that makes you an overall more creative person. Creativity can be applied to every subject I can think of, and it has helped me a lot in Physics, especially. It also helps me in my classes, because I can think outside of the box and keep an open mind.
WB: What is the most important lesson you have learned from the art department during your time at Malvern?
PM: Being able to look at something and to see it for more than it is, to see a deeper meaning in it is probably the most important thing I have learned. It's tough to do at first, but when you have the right tools it can help you in so many different ways.
WB: Speaking of tools, what's your favorite material to work with?
PM: My favorite medium to use is charcoal. You can really alter it once you put it down which allows you to use shading in cool way. I also love to grill when I finish with my art.
WB: I was around Duffy and I saw some of your drawings hanging up. You have some controversial pieces, can you elaborate on any of those pieces?
PM: There are two kids in my class, Carson Coco and Pearse Hobson, and I thought my piece displays their relationship well. That is how I view those two people and as an artist I shouldn't be held back, my opinion should be known.
WB: You're clearly talented, do you plan on continuing your art career in college and beyond?
PM: Yeah, next year I am doubling majoring actually. It is a five-year engineering and design program. Hopefully I can integrate those two majors into one profession or just pursue one or the other. I'm sure that both will end up being a big part of my life.
WB: Do you have any advice for underclassmen who are just beginning their Malvern career?
PM: I highly recommend taking at least a couple art classes. Not everyone thinks they are an artist naturally. I think everyone has the capability to be one, and everyone as a person has a human brain that conceptuallizes things which means they can actually do art. Training your brain to conceptualize and visualize things are important skills which can help you in every class.