A Night to Remember: Prom 2021
Malvern sets an example for schools around the area, successfully hosting a senior prom.
With the help of students and staff, Malvern Prep hosted a lively on-campus celebration that left smiles on every student's face. 
Experiencing their first prom, many seniors did not know what to expect when coming to campus on prom night. Assistant Head of School for Student Leadership Mr. Ron Algeo describes what the night looked like. 
"They came and entered into the quad and it had this new lighting. So the tables were set up with table clothes. The sky was really beautiful at that time and it kind of cleared up, but the sunset was making the sky beautiful colors," he said. 
The quad was also filled with countless games and activities for students to experience, such as ring toss, skeeball, a billiard table, cornhole, and ping pong.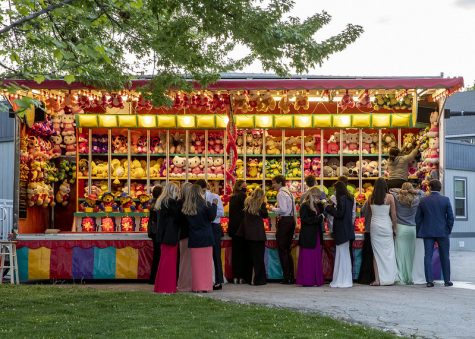 "There was a huge truck that had carnival lights and the sounds and teddy bears and all that," Algeo said. "There were also food trucks around the top of the ring road."
Andrew Reilly '20, a beloved alum and talented magician circulated the quad, performing his tricks for thrilled students. 
"Coming back to Malvern was like returning to home after being away for many years," Reilly said. "I got to see the people that have taught me so much about life, as well as my younger brothers who always jokes around with me while also learning from them. It was an experience that I will cherish for the rest of my life."
Alex Vu '21 didn't know what to expect for prom, and was not disappointed in the slightest. 
"Prom was really awesome on campus. It was really different and rumor on the street was that it was going to be on a yacht," he said.
The highlight of the night came at the very end, when the students watched as fireworks lit up the night sky. 
"I wanted to hear their reactions and they were all so genuine. They were just shocked. One kid started screaming at the top of his lungs saying 'I feel so alive'," Algeo said. "They were just laughing and taking pictures with the fireworks in the background. I think they felt genuinely happy and joyful."
Algeo believes that prom is a landmark experience for seniors and it was very important to host something that represented it. 
"This idea of closing out your high school career in a fun, safe, celebratory way is something that people look at as almost a cultural marker," he said.
The achievement of hosting a prom during a pandemic was not without difficulty. A few months ago, a group of private schools met to discuss the possibility of celebrations, but did not expect Malvern's commitment to host something. 
"They were all floored. They just could not believe that we were ready to commit to [a celebration]," Algeo said. 
With the help of the Director of Student Life Dr. James Fry, a senior committee was created with students who wanted to help plan the night. 
"Within these restrictions that we had at the time, we knew we could do something that would be enjoyable. That was the mindset that [Fry] and the team went into it with," Algeo said. 
After difficulties with student coordination to plan the prom, Josh Smith '21 decided to find a group of trustworthy brothers and get the job done. 
"I started texting my friends and all the guys in my grade that I thought would do a good job and have them help out. From there it was a huge success," Smith said. 
At first, the group tried sending out grade-wide surveys about what everyone wanted for prom, but had a hard time collecting helpful feedback. "We realized that we had enough representation in the group, so we decided to do what we thought people would like based on our own opinions," he said.
While planning, more strict restrictions were in place, so the group planned around maximizing safety. 
"We were kind of going for hanging out at a grad party," Smith said. "Walk around, have fun, not huge means but quick bites, and live music."
Vu was grateful that the senior committee worked so well together.
"I loved how the students on the committee and faculty came together to put on a really good night," he said. "There were fun activities and the food trucks were great."
Algeo was also extremely impressed and proud of the sincere preparation that Fry and the senior committee handled. 
"The result was the prom, but I'm more proud of the process that went into it," he said. 
Smith was very happy with how the night turned out. He loved seeing all the happy faces and reactions of fellow seniors. 
"I didn't need to play the games," he said. "I could just sit up there and watch. The fact that people were having fun was enough for me."