Catch MTS If You Can
Malvern Theater Society (MTS) cast and crew eagerly anticipate their first show of the new school year. 'Catch Me If You Can' promises a good time, intrigue, and Malvern Prep's core values in action on stage.
Despite the ever changing Malvern Prep student life, a piece of Malvern that has held true for decades is the esteemed Malvern Theatre Society. Putting on countless performances with incredible set designs, MTS is an absolute staple in creating the entirety of Malven's image. Students and moderators alike have been working endlessly to make the comeback production of the famous film, "Catch Me If You Can," a memorable performance. 
Tyler Kinka '23 will be playing the lead role of Frank Abagnale Jr, first made famous by Leonardo DiCaprio's iconic performance in film.
"I have been acting ever since I was in the sixth grade. I looked into stage crew, but I've always ended up singing and dancing on stage," Kinka said, offering some background about his previous involvement in theatre productions.
Of course, every international criminal needs their steadfast detective on the case, playing the other lead role, Detective Carl Hanratty, is senior and longtime MTS member, Colin Campbell.
"I am really excited about the show selection. I love the movie 'Catch Me If You Can' and was really excited when the email got sent out about the show," Campbell said.
Seeing as though this will be the first production in two years due to COVID-19, the excitement is filling the air as opening night approaches.
"The most exciting thing about the show this year is that it's one of my last shows here. Being a senior in MTS is awesome since I've been here since sixth grade and it's really cool to see my whole journey from then to now," Campbell said.
With several musical numbers and choreography, the cast are pushing themselves.
"I have a lot of singing this year and the notes I have to hit are crazy high, which is exciting yet a little nerve racking," Kinka said.
As one might expect, bringing a production of this scale to life is obviously a serious commitment for the actors to juggle with the other activities in their lives.
"I prepare a lot for my roles at MTS, usually starting off by watching the movie if there is one. Afterward, I'll look up and see if I can find a performance of the show online, then study the script and my character as much as I can before opening night," Campbell said. 
Although seemingly a daunting task, the theatre offers a similar quality to a lot of other Malvern activities: teamwork.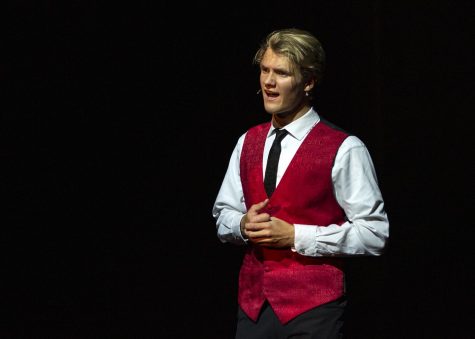 "Working with a cast who enjoys the same thing that I do is super fun and I genuinely hope we can all get super close by the end of the shows," Kinka said.
In that same spirit, the cast will not be the only factor that truly brings "Catch Me If You Can" to life. The stage design carried out by the stage crew is imperative in creating an effective and realistic environment for the production. Mr. Rob Muntz, Head Stage Designer, with the rest of his stage crew, has been creatively thinking about how to make these sets authentic, while most importantly safe for the actors.
When asked about the unique characteristics of the design for this show, Muntz said, "We are trying to provide the illusion of multiple staircases and exits that show our main character always on the move.  He's [Frank Abagnale] going up, down, around and through….doing this while maintaining a sixties art and mod style."
Clearly, with the ambition to create a set like this, there are some obstacles that must be overcome. 
"Our biggest challenge is time. We have to build this whole thing in about two weeks so the cast can get up and rehearse and dance on it.  It's a single scene set that won't move.  We call these the "Mother Ship" style of set.  They stay out there for the whole show and objects might interact but the core won't move," Muntz said.
Luckily, Muntz isn't alone in his efforts, as he is accompanied by leadership within the stage crew, such as seniors like Chance Steele.
"Chance is our Stage Manager this year.  We've worked together since he was a freshman.  He has great building and design skills and is a tremendous team leader for crew guys.  They build, paint and design the entire set, right alongside me," Muntz said.
Ultimately, with an effort to create and perform to this caliber, the members of the Malvern Theatre Society are consistently and wholeheartedly demonstrating the core values of Malvern.
The long-awaited return of MTS will have its opening night on November 5th, with other performances on the 6th, 12th, and 13th.