Malvern Goes Virtual Again
The Omicron variant has been the cause of the most recent spike in COVID-19 cases. Malvern was forced to cancel school just before Christmas break, and upon its return, developed an approach to keep the school open and implement a virtual option for January.
The unprecedented times of the pandemic leave many unprepared, although Mrs. Leonard, Assistant to the Assistant Head of School – Student Leadership, explains how the faculty and administration are prepared to handle outbreaks among students and staff. 
It is a difficult time for Malvern regarding Covid outbreaks at the end of the calendar year. Christine Leonard, Assistant to the Assistant Head of School, talked about the protocols the administration put in place to combat the spread of the virus. 
"The administration has put in certain protocols and this allows students to keep up with their work with virtual school if they are sick or have to quarantine." Mrs. Leonard continued," Although more importantly, it allows Malvern Prep to remain an in-person school. We've proven to ourselves and the Malvern community that while it may not be ideal, we can do it successfully."
A controversial decision arose the week before Christmas break, that being the decision to go maskless for a week which may have led to outbreaks affecting over 25% of the student body. 
"Due to a few middle schoolers that contracted the virus and given their proximity to their peers, we were going to have to ask almost the entire middle school not to be here. If you added that to the Upper School status, we start to say 'well, it sounds like over 25% of our student body won't be with us on this short week. We're no longer an in-person school at that point,'" Sillup said. 
Assistant Head of School for Academics Patrick Sillup and the leadership team collaborated on the weekends and over the holiday break to determine the best solution to stay in school. 
"Knowing what we know, knowing what universities are doing, organizations are doing, knowing how the virus is spreading, we're anticipating a continuous sort of uptick in absenteeism. Mr. Algeo was offering, and I thought it was a really great thought, [that] having a month of January where we went into this hybrid model," Sillup said. 
"Patrick Sillup, our Assistant Head of School for Academics conveys these ideas ahead of time…he and his team always anticipate what may have to happen, and then it is conveyed to the teachers first then the parents and students. Our IT department has been an enormous help with that so they have all the resources they need."
Having the hybrid model seems like an easy fix, but in reality, there are a lot of things to account for. Along with his co-teachers, Mrs. Danielle Suber, Director of Diversity, Equity, and Inclusion, and Mr. Chris La Tempa, Associate Director of College Counseling, Sillup also experiences difficulties when virtually teaching their Social Entrepreneurship class.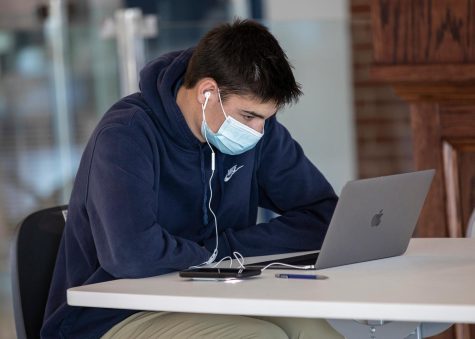 "What has been really hard this month is any given day, I might have five to eight guys [virtual], I might have none. So today, for instance, I signed on and nobody was virtual, which actually was great. It was great because you are able to break our groups up and work through that. Whereas last week, I had a scenario where I had one or two consistently [virtual], and I felt like for them it felt isolating," Sillup said. 
After being virtual last year and having half the class in person and the other half either at home or in a home base, Malvern teachers all have experience on how to address a hybrid model. Social Entrepreneurship has three teachers, unlike other classes, which is a huge advantage when managing virtual learning.
"We can divide and conquer a bit. Maybe somebody takes the online space and works through breakout groups with those students. We can work on who needs to sort of pay attention where if it were just me singularly [that would be a challenge]. I think it's been coming up with a plan. It's flexible enough to allow all students access, sharing slide decks, making sure active links are on My Malvern, so if there's an assignment or something you need to see" Sillup said.
In our ever-changing world, it's helpful to be flexible and alter the process of learning which Mrs. Leonard describes as one of the great things about Malvern.
"We individualize things and we like to work with our students and our faculty for their individual circumstances. So if a student is sick, he can choose to have a sick day. If you have to quarantine, have had surgery, or have to stay home and feel alright enough to attend school virtually you can," Leonard said. 
With virtual learning being an option, it begs the question of whether there is a difference between in-person and virtual learning. Mrs. Leonard elaborates,
"I think there's a big difference because not every student performs well virtually. In talking with some students, some love being virtual and some did not like it at all. So being able to make it work and be flexible especially since it's such a big challenge is an accomplishment."
A staple of Malvern is its tight-knit community which, as Mrs. Leonard says, has had a positive impact on persevering through these strange times.
"It's been much longer than we've expected but now it's not our first rodeo. I'm not saying we've perfected it but we're getting there. I think that we're fortunate to have the support of administration, parents, or technology to help the process along."
As the pandemic drags on, some may question what will become the new norm for academics at Malvern and whether we will ever officially be able to get rid of virtual learning.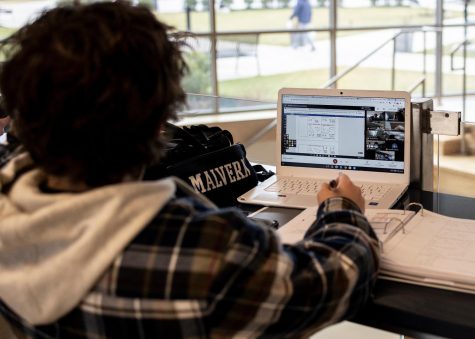 "I don't think it's our new normal. I believe the goal of the administration and the faculty would be to have everybody on campus present so you can be with your brothers and be together. Our school, in the Augustinian way, is a lot about making connections and relationships and I believe that's best served in person," Leonard said. 
"The leadership team has made a commitment to keep having those conversations," said Sillup. "That is one of the agenda items to say, 'Do we have enough evidence to suggest that we should be back fully in person, the week of January 31st?' From my standpoint, academically, I always follow the student attendance list. That's a big signal. I follow the faculty attendance list. There was a point early on in January where we still had consistently north of 20% student absence. That's like a tooth missing in your smile, right?" said Sillup. 
As Sillup and the leadership team continue to discuss this, it's important to look at the surrounding area, and not just the Malvern community. 
"Understanding what's happening across the Inter-Ac and the other private schools. What are they seeing in terms of patterns? We pull all that together and say, 'Okay, I think we're ready', and that requires communication," Sillup said. 
And most importantly, involving the students in these conversations:
"If you're gonna be gone for three or five days or more, talk to us. We want to create something for you if you're out. If you're not feeling good on a day, lay down, get better come back when you're better. I think it's going back to that in-person approach. So [when we] flip that switch back, it's just following those patterns and understanding [how to] make the best possible decision," Sillup said.