The Big 'M': Paul Hornsleth '64 Natatorium Dedication
Malvern has recently dedicated their Natatorium in the O'Neill Center to Mr. Paul Hornsleth. The longtime head swim coach and active alum will now have his name enshrined in the pool facilities for the next generation of aquatic success.
Hornsleth has been part of the Malvern community for over fifty years. Graduating in 1964, Hornsleth would come back to Malvern in 1970 as a Math teacher and served as head swim coach for forty-two years until 2013.
"Malvern Prep is such a big part of my life. From going to school and then coming back to teach, it has given me a whole different perspective on life when I returned to Malvern after beingin the service. I didn't expect to be spending the next forty years of my life at Malvern," Hornsleth said. 
During Hornsleth's time at Malvern, he made an impact on countless individuals as a coach, teacher, and mentor. 
Mr. Jay Schiller, who served as assistant head coach under Hornsleth, and would ultimately take over the swim program in 2013, initiated the idea of dedicating the aquatic facilities in Hornsleth's name. 
"When Paul retired in 2012, that was the first time I had approached the Development Office about naming the pool after Paul. I thought it would have been appropriate to do it right after he retired. I understand the school has ways of raising money with development and I kind of struck out a few times in getting the pool named," Schiller said. 
With the help of Mike Treston, John McGlinn, and the development office, Schiller was able to get approval from the Board of Trusses at the end of last year for the name dedication. Through some creative fundraising efforts, they were able to make the dedication and improvements to the facilities.
"We've got new blocks, we've got a new record board, we've got a new scoreboard, and there's still a lot more improvements that are going into the pool as a result of naming the pool," Schiller said.
Having the Malvern's Swimming and Diving program put on the map while Hornsleth was head coach, there was no doubt in Schiller's mind what needed to be done once Hornsleth retired. Schiller felt that the impact Hornsleth had on Malvern Prep, particularly with the swim team, required such a dedication to honor Hornsleth's tireless commitment to the Malvern community. 
Another close friend of Hornsleth, Mr. Jim Stewart Jr, Malvern's Athletic Director, has known Hornsleth for many years, through family connections, having graduated from Malvern in 1986 and even being one of Hornsleth's swimmers while a student at Malvern. 
"I've known Mr. Hornsleth for fifty-three years because he was a good family friend of one of my father's brothers and my father and him had worked together here for a very long time. They're both from the same neighborhood, so I've known him my whole life," Stewart said.
Stewart made sure to make note of Hornsleth's success in the sport and his dedication to building such an impressive program which has lasted for many years. 
"Mr. Hornsleth was Malvern Prep swimming. He built an incredible program and he did it the right way. He was a tough coach, but also very fair. I think that over the years he developed really good swimmers with his coaching techniques, and dedication and commitment to one of the highest successful swimming programs in the area," Stewart said.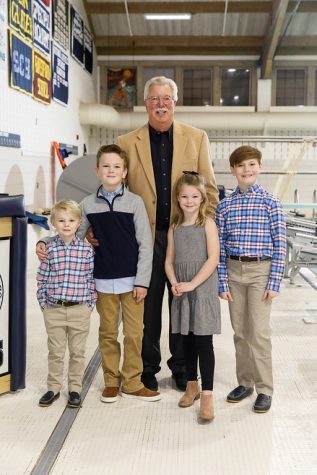 Schiller even offered a sentiment to Hornsleth's legacy at Malvern, an idea that Hornsleth's wife agreed with too. 
"When I see the big M (in the swim facilities,) I think of Malvern Prep as much as I think of Paul Hornsleth. He is the big 'M' to me in the pool. Even [Hornsleth's] wife jokes that he's the big 'M,' Schiller said.
Mr. Hornsleth, who can often be seen at home swim meets or just stopping by to see campus, has truly been appreciative of the dedication and has felt nothing but gratitude for all of those who have helped him during his career. 
"I think to be recognized by a school that you love and by the people I've worked with, I can't even put into words what that meant to me. I'm still blown away. Anytime that you are recognized by your peers and recognized by that you spend so much time at school; there couldn't be a higher honor," Hornsleth said. " 
Hornsleth referenced that during his time coaching for Malvern, there were many high and low points. One point that he distinctly remembers happened back in 1975. 
"I can tell you the date, on January 17th 1975 against Germantown Academy – an up and coming Inter-Ac team under the famous Dick Shoulberg. We were expected to win, but it became a very important meet for me, because that afternoon at the end of school there was an emergency faculty meeting. It was Father Duffy speaking to all the faculty saying 'I just want to give you a heads up, but there's a very good possibility that this could be the last year Malvern will function'… wow. Going to the meet [that's] all I'm thinking, but I can't say this to the swimmers. This possibly could be the last Inter-Ac Championship so that was very special; that was just a crazy day," Hornsleth said. 
Though that time for Hornsleth, and so many others, were challenging, the worries of closing down would not last, and the athletic success in the pool was just beginning. 
Under Hornsleth's time as Head Coach, the team would go on to win ten Inter-Ac Championships and produce a plentiful amount of All American swimmers.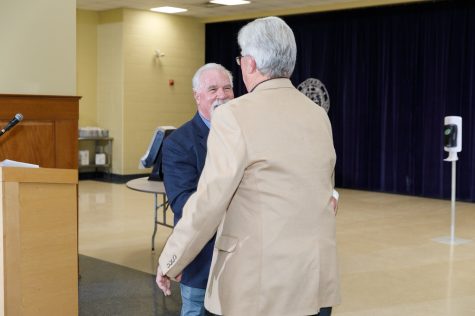 Both Hornslth and Schiller had one memory that stuck out while coaching together on the pool deck. This memory would undoubtedly be one of the highest points for both coaches during their time at Malvern. It would come after defeating Germantown Academy, who won twenty-seven straight Inter-Ac Championship titles.
"In 2002 Germantown [Academy] came to Malvern and we smoked them. The place was crazy, there was a basketball game going on and you couldn't have gotten another person in the stands, it was crazy. But after the backstroke was even over, Dick Shoulberg knew that we were going to win and he walked around and he said, 'you know, I knew it was going to come to an end and I knew it was going to be Malvern,'" Hornsleth said. 
"Well, he has left a legacy of success, dedication, character; Malvern swimming is always a program that when people talk about [it], like many of our programs, it's a program built on class. We do things the right way and Paul's sacrifices and energy over the years have built something very special here for aquatics," Stewart said. 
Similar to Stewart, Schiller shares how Hornsleth has impacted his time at Malvern and the close relationship the two have shared over the years. 
"Paul continues to be one of my best friends. We've kindled a friendship through working together… I think Paul, he's a teacher at heart, and one of the things he is as a coach is a great teacher when he's on the pool deck, and I value that as much as he does; I've learned a lot from him because of that," Schiller said. 
There is no doubt that Horsnsleth has left an indelible mark on Malvern's Swimming and Diving program. After years of dedication and determination, Hornsleth has led the way for even greater success for decades to come.