Mr. Aaron Brady Hired to Lead Football Program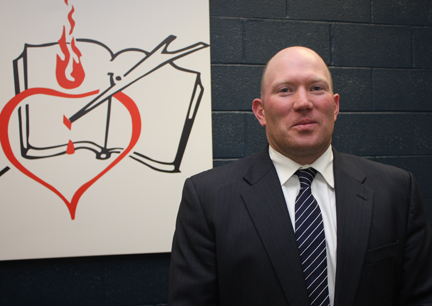 Brady discusses his background and perspectives on coaching
New football coach Mr. Aaron Brady is poised to follow in the footsteps of long-time Malvern legends, Coaches Gamp and Kevin Pellegrini.
Coach Brady has participated in several high school and collegiate programs. He has coached at high schools in Florida and Maryland and has been involved at Georgetown University, Clarion University, Duke University and Mansfield University. He is certainly ready to take Malvern's football program to the next level.
Following is an interview with Coach Brady that shares some of his personal perspectives.
JB: How did you get started in football?
AB: My father was a high school coach.  He coached baseball and football at my high school, South Western High School in Hanover, PA, York County. I started playing in fourth grade at my elementary school.
JB: Did you play any other sports in high school?
AB:Yes, I was a three sport athlete. I played football, basketball, and baseball. I had ten varsity letters and I was all-state in football and baseball.
JB: How did you get started in coaching?
AB: I went to the New York Giants in summer of 1999, and got cut. When I got cut, one of my friends was coaching football at East Side Newark high school in New Jersey. So, I coached there for that season.  Then I was going to try and keep playing, but I got offered at Mansfield University, at a college. From that point on I have been a coach. I have been coaching since 1999. I did seven years in college. I was at Mansfield, Clarion, Duke, and Georgetown University.
JB: So, coaching was not really your dream job?
AB: Well, I was became a coach on the fields I played, so I was always thinking about trying to play at the next level. So, I was never really thinking about 'Oh, I am going to be a coach when I get done playing.'
JB: What kind of role did sports play in your childhood? Was it your main priority?
AB: I grew up on a farm, so the number one priority in my life was work. It was doing chores, and sports were a great outlet to give me a reason to get out of chores sometimes.  I played three sports, so I was very busy. Back then you played all three sports through the summer.  I just loved to compete, and I loved being outside working on the farm. I enjoyed the camaraderie of it, being part of a team, and going out as a team together. So, it was probably my favorite thing growing up, yes.
JB: Can you tell us a little bit about your family?
AB: I have a six year old daughter, her name is Brennan, and I have a fiancée, whose name is Katie. She was a three time All-American in Duke in field hockey, and she is from Pennsylvania as well. She is very athletic.
JB: What can we expect from you as a team builder and for the football team in the next few years? Do you have any goals?
AB: Absolutely. Number one, I am following in the steps of legendary Coach Pellegrini, so I want to continue that tradition of excellence. They have built a team concept here that a lot of people are proud of.  There are so many alums that come back and coach on the staff, so that tells you a lot right there that you want to come back and volunteer – you do not make a lot of money coaching, and that means a lot to me.
I love football because everybody is a part of the team.  Whether you are a starter or never play, you are part of something special, and what I want to develop here is that same kind of concept.
I have two main goals for the program. Number one is I want the experience to be memorable for all the players, because mine was. Some of my best friends were my high school teammates, and some of my best mentors were my high school coaches. I think that is true for every sport you play, but I think in football there are so many more emotions involved in the game.
Number two, I believe in getting the young men at Malvern to the best possible college that fits them.
JB: How do you plan on completing those goals?
AB:  Well, it's a process. So, the process starts in the classroom, number one. You are not going to be a great athlete, and you are not going to play college football, or any college sport, if you are not a good student. That means doing your work on time, sitting in the front of the class, doing the things that create good habits. Those good habits carry over to being a good football player.
On the football side of things, we are going to expect them to lift throughout the year, run, do skill work, watch film throughout the year. All these things together combine and make you a better football player.
You get better in football through watching film. Probably the only sport remaining where that is true. Every sport nowadays, you go to these summer camps. All these sports, you are going to get recruited in the summer, at a workout or a showcase. In football, we do not have showcases. You are going to get recruited off of your film during your season. So my goal for those guys is to shine during those eleven games, and the way to shine is to do all those things and have great grades associated with them.
And obviously, if you are at Malvern, you are being taught about service, being a friend to others, and being great to others more than ourselves.  That is part of what we do here.
JB: What would be your core values you try and teach your players?
AB: Definitely honesty, integrity, and I am big on facing adversity. Everyone is great when things are going fine, but the true test is how you are going to do when facing adversity. That is the true test of a person. That is what I am going to try and put on my guys, to always be on the same level, where do you do not go up and down and allow big dips, so that when you face adversity you push ahead.
I am a very positive person, and that is my coaching style; to be super positive, lot of energy, and to push forward, always moving forward.
JB: What do you look for in team/student leadership from your players? What kind of qualities from the student leaders of your team?
AB: Well, number one is – what you are doing for the community, and what kind of person are you off the field. Then we have team values, and those team values are honesty, integrity. Are you that kind of person that can stand up for the team, be a leader, so are you going to live up to those things?
The other part of that is, everybody at Malvern is a leader.  I believe that there is a reason that you are at Malvern. You are a special person. You are looking for higher things, and you want to be challenged more than other people, and that is why you come to Malvern. I expect and am going to hold you to that bar, to that level.
JB: In your introductory article to Malvern, Mr. Ruch was quoted saying he was "impressed with your strategy of bringing talented players to Malvern." Is there anything that you can share about that?
AB: Well, I come from a place where the recruiting is out of control.  I believe more in assisting people in the process, letting them know about Malvern and showing them 'here is what you can do at Malvern.' Here are the opportunities Malvern provides, let them make a decision.
We are going to get out in the community, we are going to visit youth practices, we are going to hold clinics and camps on campus, we are going to coach the youth coaches to be better coaches with what we know. I was also a trainer for the NFL. So, I am going around the country teaching youth about concussion awareness, equipment, and proper tackling.
JB: Is there anything unusual, quirky, maybe an experience that you can let the Malvern community in on about yourself?
AB: I am a huge history nut and I like riding horses. I have lots of horses at home.
The Malvern community is excited to see what is coming to the football program. Coach Brady brings with him more than fifteen years of experience and several goals and plans for the program that should get the Friar community excited for his arrival. Please join the Black Friar Chronicle in giving Mr. Brady a warm welcome to the Malvern community.