Malvern Shuts Down Episcopal in Home Victory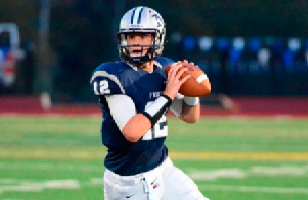 As the wind whipped through the coats of the spectators in attendance, the Friars made quick work of their first offensive possession with a touchdown.
Quarterback Alex Hornibrook '15 took his team down the field quickly and efficiently, and encapsulated the drive with a touchdown throw to tight end Trevor Morris '15.
But, this drive was different than other regular Friar possessions.  On this particular drive, Hornibrook became the all time passing leader in Malvern history.  He accomplished this tremendous feat within his first few throws to start the game.
"It is an honor to have my name in the record books.  There have been many great QB's that have attended Malvern, and to break an all time record like this one- it feels pretty good," said Hornibrook.
After Malvern scored to take an early lead, the Churchmen answered back with a late first quarter touchdown to tie the game up at 7.  From then on in, Episcopal was shut out by the Malvern defense in a truly tremendous effort.
"We did a really good job of not allowing them to get into a rhythm.  We practiced hard all week and it's satisfying to come away with a victory," said Justin Titchnell '17.
Later, in the second quarter, Malvern took the lead for good when Hornibrook threw his second touchdown pass of the night to sophomore running back Zach Fernandez.  Going into halftime, the Friars led 14-7.
The second half of the game was dominated by Malvern.  Episcopal failed to move the ball and put points on the board against the Malvern defense.
Late in the third quarter, Fernandez iced the game with a 13 yard score to set the final margin.
After the game, Hornibrook commented on his tremendous feat:"For this record, it's not one that revolves around one player but one that involves the whole team. It goes all the way from the coaches calling the plays to the line blocking and then to the receivers catching the passes and making the plays."
When asked about his pursuit to the record, he stated, "Since I came to Malvern I have wanted to break this record. It's been one of my goals all the way back to freshman year. It feels great to finally say that I have accomplished this goal."