Austin Laudadio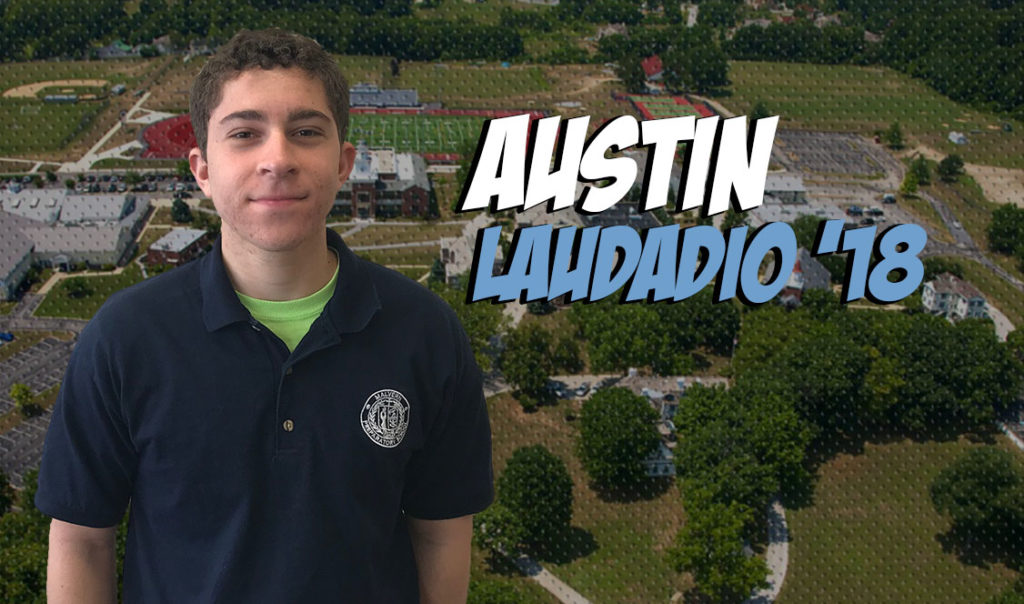 The laid-back senior attacks his passions of visual art and soccer with a hard working mentality.
Many know senior Austin Laudadio as a nice, quiet kid with a short stature. Yet with a pencil and pad in his hand, he is dynamic.
"I have been drawing since before I can remember. It has always just come naturally to me. It has kind of taken over my life in a way," Laudadio said.
Laudadio formed a habit when he was younger of drawing on his hand that has stuck with him to this day.
"What's interesting is that I would never actually use a pencil or a pen. I would just trace objects in the room with my finger onto my hand or leg," Laudadio said. "I am a big doodler too. If you were to look at any of my notebooks you would be amazed at the ratio between actual notes and doodles."
Laudadio is always looking for new techniques and mediums.
"I find myself YouTubing painting time lapses and tutorials in order to improve my skills as best I can. I really feel that Malvern has helped me hone in on this passion," Laudadio said.  
Laudadio has been taking studio art since freshman year at Malvern. He said the art program at Malvern was one of the big reasons he chose Malvern to begin with.
His favorite piece to date was a large pastel drawing he made last year of his grandparents apartment complex in Naples, Florida.
"It was probably the biggest drawing that I had made up to that point and I knew going into it that pastel was going to be a tough medium to use," Laudadio said. "What made this drawing special was that I knew that I wanted to give this piece as a gift to my grandparents."
He said he put a lot of pressure on himself to put his best work out and spent days perfecting the image. Laudadio explained his process to creating his artwork.
He starts out by blocking out the picture rather than focusing on details. "It is extremely important to block out the whole scene so that you are sure your proportions are correct. In my opinion that is where most people struggle with drawing. They don't look at the whole image," he said.
[perfectpullquote align="right" bordertop="false" cite="" link="" color="" class="" size=""]"I don't think I am ever going to stop drawing. I feel I was given a great gift and I don't want to waste it."
-Austin Laudadio '18
[/perfectpullquote]
Then, he puts in the details and shading. "Correctly shading a piece can bring it all together and really make it pop. And of course, I end each painting by signing my name," he said.
Ultimately, Laudadio was happy with how his drawing turned out.
"The colors were bright and beautiful and it looked great. I was so happy to surprise my grandparents with it. Their response made it all worth it. It is currently sitting in the lobby of their apartment building down in Florida," he said.
Laudadio lives in Malvern, PA as one of five siblings. One of his favorite places to be is at his family's beach house in Ocean City, NJ during the summer.
"I am either in the ocean, skimboarding, playing wiffle ball, or some sort of activity with my cousins who own a house on the same block," Laudadio said. "I actually created my own summer business where I sketched, charcoaled, and pastel colored recreations of families' summer homes in Ocean City."
Another passion of his is soccer. He was a member of the varsity squad this year, but he sometimes had doubts if he would ever make it since he quit club soccer going into freshman year.
"I made it my goal to work out on my own during the offseason. I would drive to Malvern by myself to work on my shot and try to improve my game as best as I could. It all worked out in the end and I finally made the team," Laudadio said.
This year, Laudadio played in the midfield, mostly as a winger. Teammate Phil Kramer '18 said he was a quiet guy but came out and worked harder than anyone else.
"Austin is surprisingly very strong and has a good touch on the ball. He's also an all-around good guy that was cool to hang in the soccer locker room with," Kramer said.
Laudadio said his favorite part of playing soccer is how it changes his personality.
"For me, soccer allows me to be a different person. I am normally a quiet, shy, laid back kind of person but when I step onto the field I am fearless and gritty. I won't be afraid to go for any tackle or any fight, no matter how much bigger my opponent is," he said.
Some of the highlights of Laudadio's season included big wins versus The Haverford School, Episcopal Academy, and Springside Chestnut Hill Academy. He also scored an amazing bicycle kick goal against Springside Chestnut Hill.
"It was awesome to be apart of that brotherhood. The varsity team this year was so close and the bonds we formed were unbreakable," Laudadio said. "I couldn't have asked for a better season/team to end my high school career."
Looking forward, Laudadio plans to major in Biology at Villanova University this fall. His dream is to become a dentist due to his uncle being an orthodontist.
"Growing up with my uncle as an orthodontist really exposed my to the career and gave me the opportunity to work for him for a couple years in order to make sure that this is a career that I want to pursue," he said.
However, Laudadio still plans to keep drawing in the future, deciding between taking a Studio Art minor or taking general Studio Art classes at Villanova.
"I don't think I am ever going to stop drawing," he said. "I feel I was given a great gift and I don't want to waste it."