Friar Lacrosse will move up to NCAA Division III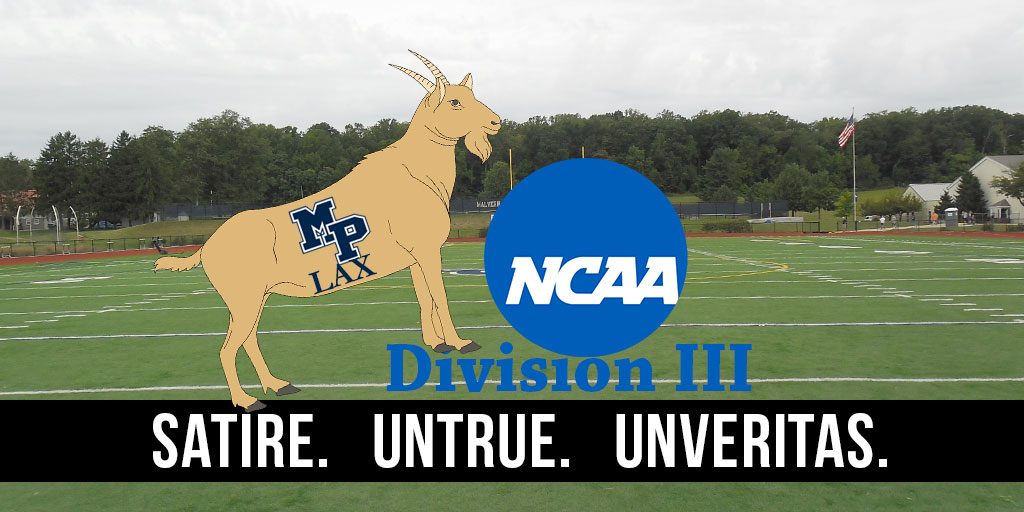 SATIRE: Inter-Ac competition hasn't been living up to its traditional competitive state. Head Coach Mr. John McEvoy has decided to move the team up to a college level.
Next year the varsity lacrosse team will be playing in the National Collegiate Athletic Association's Division III along with schools such as Tufts University, Wesleyan University, and Ithaca University, as well as local schools Ursinus and Gettysburg.
The change comes after a dominating past few years for the program. With all the rising talent McEvoy thought it was time for a change.
"I know we aren't going to have many challenges in the next few years," McEvoy said. "Especially with so many sophomores and juniors committed to play Division I, this will be a good thing for us."
The rise to Division III will be a great learning opportunity for the younger players who hope to play Division I lacrosse in the future. It will also drive players to make the varsity team and get this kind of attention.
JV sophomore Nolan Rogers said, "I will try very hard next offseason to make varsity and get in shape. If I can get the recognition from this, I could possibly get to go to a bigger school."
For students already going to bigger schools, the progression to a college division is an acclamation.
Sophomore Claudio Chieffo, who has committed to Fairfield University, said, "Although I am already going to play college lacrosse, the jump will be easier now."
Overall most are excited for the switch, but what is most important to the players is the chance to play in the Division III national championship held in May.
The team will get a chance to play in front of thousands and possibly on TV. The national recognition is great for the team and the school, according to Head of School Mr. Christian Talbot.
"I'm very happy about this," Talbot said. "The school will get national attention and this puts us closer to our goal of becoming a university in the future."
Although the lacrosse team is excited, other teams are not as positive– especially the baseball team, coaches and players.
Head baseball coach Mr. Fred Hilliard said, "We've won three state titles in five years, six league titles in a row, have sent fifty guys to college scholarships and have a few guys in the major leagues, but yeah let's give lacrosse a turf field and let them play college ball…makes sense?."
Head of the Upper School Mr. Ron Algeo also has some concerns.
"I've heard the stories about college level athletes taking easy classes and treating their sports as the number one priority," Algeo said. "But that won't happen here. All athletes will be held accountable the same way as all other students. Hopefully the coaches feel the same way."
There will definitely be more traveling for the new Division III team. Their league will mostly consist of schools in Pennsylvania, Maryland, and New York. Some of the schools are on the upwards of a seven hour drive not including non conference games.
Algeo says this shouldn't be a problem because most teams take a trip every year or every other year. However, he noted that a team has never scheduled this many trips in one year before.
"It will be a good experience for them," Algeo said. "And I will be interested to see the boys play my alma mater Ursinus every year."
This story is satire and not intended as news. Happy April Fools' Day!