Paoli gets mugged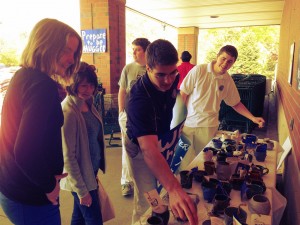 Rolling a ball of wet clay in your anxious hands, then throwing a cylinder on the ceramics wheel. Trim, slab a handle on there, fire, glaze, enjoy. That's the process of throwing one handmade mug.  Students in Ms. Plows's Ceramics 3 class each threw 25 mugs this semester, all reflecting their own creativity and talents. Yet all of these hand crafted mugs would soon be given away to complete strangers, people these students have never met before. Seems crazy to some, but for these talented ceramics students, it was truly a rewarding experience.
On Friday, April 26, nine Ceramics 3 students went to the Paoli ACME to try Malvern Prep's first "Mugging." The rules were simple. Each student was to make about 25 mugs to be given away to strangers for free. No catch, no charge, just a friendly reminder how much better a drink tastes out of a handmade mug. This may have seemed like a difficult task at first. How could you just give away this artwork that you have spent countless hours on to strangers? Yet these students look back on this experience mug-less with no regrets.
"It is really different making mugs that are meant for some random person," notes junior Ceramics 3 student Alex Ganantino.  "You don't put more or less amount of work than if it was for yourself, but you put in work that communicates meaning – because you know that this piece will be out in the world hopefully bringing joy and knowledge of the beauty of ceramic pieces to these people."
For those shoppers who were fortunate enough to stop by the ACME that afternoon, they were in for a real treat. They were greeted by an animated Jake Anderson '14 holding a sign saying "We're here to Mug you!" and they were then offered their choice of mug. All these shoppers were asked to do was to enjoy the mug, and to reply to the Malvern Mug Assault Blog with feedback.
Many people were truly moved by this surprising experience. Participants sent their thanks, pictures of their new mugs and how they were being used, and personal feedback. Said Pat G. "Thank you so much for my handmade mug. It was very generous of you all to share your talents!" Holly F, another lucky patron, responded, "Thank you to everyone for making Friday such a special memory. There is something very comforting about holding a hand-made mug. The best was that it was so hard to believe that it was a free gift with no strings attached."
Mrs. Lewis of Malvern's Counseling Department also visited ACME during the mugging.  She described experience of choosing the right mug by saying, "It's like finding a marriage partner.  When you find the right one, you know."
Yet even though many people were enlightened by this experience, giving away these free mugs wasn't the easiest task. Actually, it was sometimes quite difficult.
Some ACME shoppers simply said "No, thank you" to a free handmade mug. Others said that they would grab one on the way out, but managed to use the other exit on the way out. One couple approached the table but wouldn't take a mug because they were free, and they would rather someone else who "needs" it to have it. Many students felt that besides the fact that they were giving away their artwork, this would be an easy task, but this actually turned out to be more than they bargained for. Who knew that free would be such a steep price for some?
"Art is something that is extremely personal," observed Jackson Connor '13. "In giving these 25 mugs away, I feel as if I am sharing something very personal with someone I have never met before."  In many ways, that Friday at the Acme was a sort of social experiment. Students learned that people often see something free as  having a price, but they also gave some lucky people a personally crafted handmade mug.  No matter what you use if for, and no matter the price, there are few things in the world as great as a handcrafted functional piece.
Visit the Malvern Mug Assault Blog to see more photos and reactions.