Middle School Highlight: Davis Conaway '26
Despite only being in eighth grade, Davis Conaway competed for Malvern Prep's varsity golf team, finishing his season ranked sixth in the league.
Golf has been a passion for Conaway since he was a toddler. When given a chance by coach Gary Duda '88 to play on the varsity team, Conaway took the challenge head-on.
"[I have been playing golf] since I was almost a baby, three years old," Conaway said, an 8th grader at Malvern who competed on the high school varsity golf team this past season.
As long as Head Golf Coach Gary Duda has been with the team, he has never seen a player like Conaway.
"[No other middle schooler] has competed at the same, I guess sort of level, that Davis is competing [at] currently. At the varsity level, [some have] played in a few varsity matches, but Davis turned out to be the 6th ranked player in our league as an 8th grader, that's never happened. Ever. It's never happened," Duda remarked. 
Like any other athlete, success stems from perseverance and dedication; Conaway took this mantra to a whole new level.
"Davis has a really deep belief that because he's worked so hard, you know, practicing and doing the right things, that he's going to play well. It's even harder to find that [at] a golfer at his age. And that's the beauty of him, of his kind of success," Duda said.
The work he puts in is part of his daily schedule. "[I practice] every day, every day for at least an hour or two," Conaway said.
His diligence left him satisfied with how his season turned out.
"I came fourth in the last tournament with the entire inter-ac. I think I was top 10 in all the tournaments that I played in, except one, but I still played pretty well."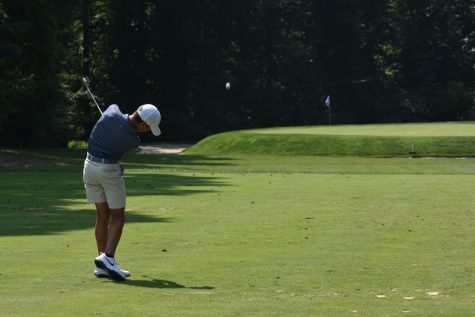 Conaway could not be more grateful for Coach Gary Duda giving him the opportunity to compete at the varsity level, and his success at such a level which would have been impossible if not for his teammates' support.
"I tried out [for the team] and coach gave me a chance, he pulled me up on varsity to start the season. [Playing with the varsity team] I wasn't scared. I was just ready to show them what I could do for sure. And I mean, every event was fun. It wasn't like I didn't belong or anything," Conaway commented. 
Despite being an 8th grader, Conaway's upper school teammates helped him cement his place in the unfamiliar environment.
"They definitely brought me in under their wing, especially Henry Fish. He really helped me out. Every senior really helped me out as well," Conaway said.
Conaway's ability to always show up with a determined mindset continuously worked to his advantage. 
"I think he kind of gained the seniors and the upperclassmen's sort of respect. The first couple practices that we had he was grouped with a few of our senior captains, [and] they spoke very highly of [him], and loved his demeanor and his confidence. So he fit in, in all honesty, right from the very start, which was cool to see," Duda said.
Conaway looked up to his high school teammates who acted not only as friends but also as mentors throughout his time on the team.
"The seniors led me and the team the whole season, especially Keller. The seni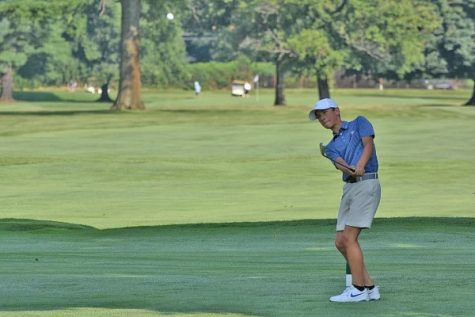 ors gave us the chance to win the Inter-Ac this season," Conaway said. 
Competing at a varsity level while only being an eighth grader was a huge accomplishment for Conaway. Although the season has only just ended, he is already looking forward to next season with goals in mind.
"I'm excited for high school [and to continue to play] for Malvern. I want to win an Inter-Ac championship," Conaway concluded.